---
Video Archive
In The House
Maryland Eastern Shore Women Cross Country Teams was in the house at the MEAC Cross Country Championship.
South Carolina State renowned for Special Team's play captured the MEAC' s first Heritage Bowl victory 31 to 24 over Grambling in 1994 Heritage Bowl IV

MEAC Adopted Conference Mascot Meackia

: Get out of the way, move, Mr. & Miss CIAA, here comes Meackia the MEAC's conference new Mascot who was introduced by Commissioner Dr. Denis Thomas at the conference kickoff on July 29th in Arlington, VA.

| | |
| --- | --- |
| | |
| Lady Wildcats win 2012 SIAC Basketball Title | Benedict Wins 2012 SIAC Men's Basketball Title |

The Fort Valley State University (FVSU) Lady Wildcats are the 2012 Southern Intercollegiate Athletic Conference (SIAC) Basketball Champions after defeating the Tigerettes of Tuskegee University, 61-52, in the championship game on Saturday, March 3rd at Forbes Arena.

-

The Benedict College Tigers used a 13-0 second-half run to pull away from LeMoyne-Owen College and capture the 2012 SIAC Men's Basketball Tournament Championship with a 58-42 victory over the Magicians on Saturday night at Morehouse College's Forbes Arena.

claimed their second consecutive title and their eleventh SIAC title in the school's history.

Ben Baxter SIAC BBall

VUU's Mason Simpson

Rah Rahs Cheer Before 15,000

Spraggins Inducted into CIAA Hall of Fame
Virginia Union University's golf team opened the 2012 season at Elizabeth City, N.C. Virginia Union University's cheerleaders, The Rah Rahs, cheered in front of over 15,000 people at the annual Super Saturday Celebration at the CIAA Tournament . Virginia Union University's Bruce Spraggins, who scored over 1,500 points during his three-year career for VUU, was inducted into the CIAA Hall of Fame - Jim Juno VUU Sports

North Carolina A&T Advances With Win Over Morgan State - Ms. Sahar Abdur-Rashid
WINSTON-SALEM, N.C., March 5, 2012 – JaQuayla Berry notched a double-double of 14 points and a game-high 16 rebounds to pace No. 5 North Carolina A&T in a 66-53 win over No. 12 seed Morgan State in a MEAC Women's Basketball Tournament first-round game on Monday afternoon at the Lawrence Joel Veteran Memorial Coliseum.

Knotts, Flowers Combine To Lead South Carolina State To Win Over Delaware State
NORFOLK STATE WINS OPENING ROUND GAME OF MEAC WOMEN'S BASKETBALL TOURNAMENT
COPPIN STATE ADVANCES WITH WIN OVER NORTH CAROLINA CENTRAL
Mercer, Agbasi Lead Maryland Eastern Shore To Win Over Savannah State In MEAC Tournament
JERRY RICE ENSHRINED IN COLLEGE FOOTBALL HALL OF FAME
Former Mississippi Valley State and NFL standout receiver Jerry Rice was enshrined into 2006 Class of the College Football Hall of Fame this evening in ceremonies in South Bend, IN.
USATODAY: Jerry Rice called to College Football Hall of Fame
LOVELACE NAMED INAUGURAL MEAC WOMAN OF THE YEAR
Renecia Lovelace, a four-year outfielder for the North Carolina A&T softball team, was named the inaugural MEAC Woman of the Year
TRAHAN REACHES ANOTHER MILESTONE WITH 1,000th CAREER REBOUND
Junior All-American Now Ranks Seventh All-Time in CIAA History
Baydak McConnell Receive SWAC Volleyball Weekly Honors
Mississippi Valley State Devilettes volleyball players Shatara Baydak and Jennifer McConnell received the first Southwestern Athletic Conference weekly awards of the 2006 season.
Johnson C. Smith Gets 1,000th Win, Sweeps NCCU 61-54


Golden Bulls Claim Western Division Title for Second Straight Year


Also JCSU captures western division crown with 61-54 victory over North Carolina Central University. Career record is 1,000-696.
WSSU Names Bobby Collins Head Men's Basketball Coach


Winston-Salem State University Director of Athletics, Dr. Chico Caldwell announced on Tuesday that Bobby Collins has been named the seventh head coach of the Rams' men's basketball program and will become the first head coach in the Division I men's basketball era at WSSU
---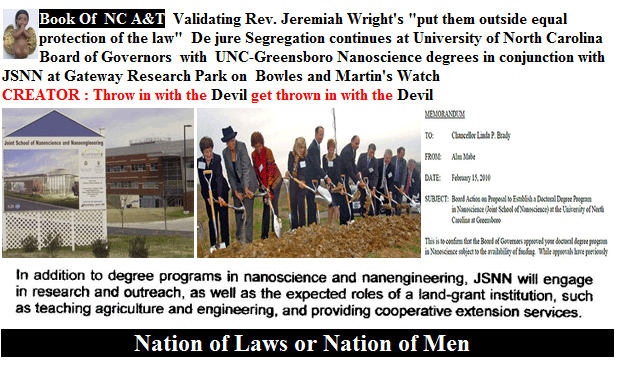 R
epackaging Jim Crow for the 21st Century as collaboration, fifty plus years after four North Carolina Agricultural & Technical State University (NC A&T) freshmen sat down at Woolworth's lunch counter February 1, 1960 projecting Greensboro, NC onto national and international stages with sit-in movement,
members of Greensboro Business organization working through unelected UNC Board of Governors, and Erskine Bowles UNC General administration alleging calibration with cross town HWI University of North Carolina- Greensboro unlawful and unconstitutional allocating NC A&T's academic and research programs to UNC- Greensboro and Joint School of Nanoscience and Nanotechnology at Gateway Research Park implementing

De Jure Segregation's dual system of education, denial of Due process and equal protection of the law, slaving out NC A&T and bleeding out tax payers on Erskine Bowles, Jim Phillips, Jr. Harold Martins and Lind Brady watch -
"Put them outside the equal protection of the law" Rev Jeremiah Wright
---
CREATOR "Our School" : NC A&T is one of locations the CREATOR will reestablish America's competitive edge, just as HE did with Tuskegee-Carver-Peanut. Erskine Bowles and that crowd only built our first building - for us. Now we'll running off.
In 2011 HBCU North Carolina A&T for the seventh consecutive year had the third highest amount of the 16-member University of North Carolina with 56 million dollars trailing only NC flag ship universities North Carolina-Chapel Hill and N.C. State. NCA&T State University has been funded at an average rate of $3-5 million per year in the area of nanoscience and nanotechnology. Most of the research in Nanoengineering is done in the Center for Advanced
Aggie Ronald McNair on Board Challenger
'The Challenger Has Exploded'