Maryland Eastern Shore Volleyball adds six in 2018 Recruiting Class

Senior transfer, JUCO arrival and four freshman ready to compete for The Shore

Matt Mccann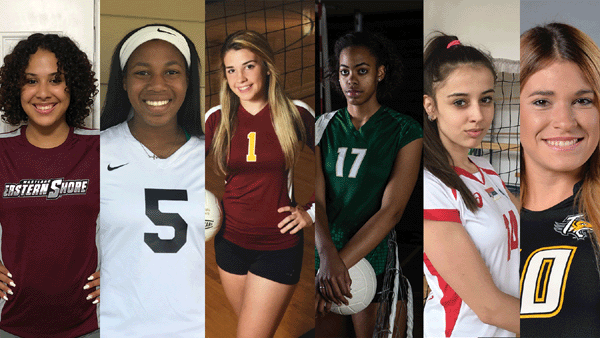 PRINCESS ANNE, Maryland — Maryland Eastern Shore Interim Head Coach Trevor Callarman announced his first recruiting class on Tuesday, bringing six student-athletes to the Hawks. The new players include a Division I transfer, a JUCO transfer and four true freshmen.

"This recruiting class will continue the proud tradition of Hawk Volleyball and can definitely take us to the next level." Callarman said. "The combination of experienced transfers and fresh, hungry talent is going to give us an energetic squad that will be exciting to watch."

The addition of senior Carola Biver (San Juan, Puerto Rico) provides a veteran presence to an already mature team. Biver transfers to Princess Anne from Towson University, after registering more than 500 kills and 500 digs for the Tigers under former Hawks coach Don Metil. The Puerto Rican forms a talented trio of outside hitters with Lucia Babic (Sisak, Croatia) and Rachel Kayongo (Northridge, California).

Three of The Shore's recruits address the Hawks' most critical need - the front middle. To fill the void left by the graduations of Alana Polk and Mere Serea, Callarman is calling on freshmen Mauri Carver (Elizabeth City, North Carolina) and Alexis Lee (Wilmington, Delaware), and junior JUCO transfer Lidia Chery (Garfield, New Jersey).

Carver comes from an athletic family in Elizabeth City. Her father and brother played for Old Dominion's basketball team, and a second brother is a current player on Hampton's basketball team. Mauri made the varsity squad at Northeastern High School, developing into an First Team All-Conference talent. In her senior campaign she led her conference in blocking, kills and hitting percentage. She also has an impressive academic resume as the National Honor Society president for Northeastern her senior year.

Lee was a three time First Team All-State player in Delaware for volleyball while also competing in basketball and track. The St. Elizabeth Vikings made the tournament in three of four seasons she played, and she earned three titles as a track runner as well. Her academic credentials are also noteworthy, with honor roll credits throughout her interscholastic career. Lee also battled for the Brandywine Blackout, a top 100 club in the nation.

Chery competed in 34 sets for the Monroe Mustangs during the past year as the team won 20 matches. Prior to her time in college, she played two years on her varsity squad at Garfield High School in northern New Jersey.

The trio of middle players will form a group of four with returning redshirt sophomore Sola Okesanjo (Chicago, Illinois).

Rounding out the 2018 class are freshmen Stella Johnson (Newport News, Virginia) and Tijana Korosec (Belgrade, Serbia). Johnson joins the Hawks as a libero, and Korosec comes on as a setter.

Johnson is a volleyball and soccer standout from Warwick High School in Virginia. She excelled as a libero for the Raiders, ending her career with 1,723 digs - fifth most in Virginia High School history. That effort netted her several accolades, culminating in a First Team All-State selection as a senior. Like her fellow freshmen recruits, Johnson is also talented academically with her placement on the honor roll and participation in the National Honor Society.

Korosec continues the Hawks proud tradition of foreign born talent to bolster their roster, joining libero Maja Jankovic as teammates from Serbia. She is expected to provide depth to the setter position behind junior - and fellow European - Ivana Blazevic. Back in her home country, Korosec competed for Radnicki, one of the top club teams in the country.

The Hawks open up the 2018 campaign in late August.

CU Volleyball's Quest For Ninth Title In 2018
Evann Carpenter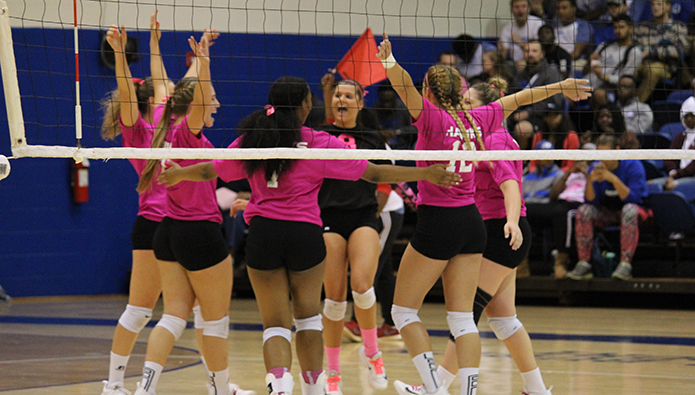 MURFREESBORO, N.C. – Coming off their eighth CIAA Northern Division title and fourth straight, the Hawks Volleyball team will look to continue that trend in 2018.

Chowan will have to be road warriors in the first month of the season as the Hawks' schedule serves up 19 road contests in their first 20 matches.

The Hawks will travel to Greeneville, Tenn. to compete in the SAC Regional Crossover hosted by Tusculum. CU will face Mars Hill and Tusculum on August 31 before wrapping up with Lincoln Memorial on September 1.

The following weekend, the Hawks will open CIAA Cross-Divisional play with the CIAA Round Up in Petersburg, Va. The Blue and White will take on St. Augustine's and Fayetteville State to open the Round Up followed by CIAA newcomer, Claflin, and Shaw on the final day.

Chowan welcomes CIAA rival, Elizabeth City State, to Murfreesboro on September 13 for their lone home game during the grueling road stretch.

Then, the Hawks hit the road to face CIAA Northern Division opponents, Bowie State and Lincoln (Pa.) before stepping out of league play to make a trip to Wilson, N.C. to face NCAA Division II Tournament participant, Barton on September 19.

The second of the CIAA Round Up will be the next destination for the Hawks, as Chowan faces Livingstone, Johnson C. Smith, and Winston-Salem State. Following the Round Up, Chowan will travel to Petersburg, Va. to face CIAA Northern Division foe, Virginia State before heading to Pembroke, N.C. and Belmont, N.C. for a pair of tri-matches.

The Blue and White will return home on October 7-8 for a five match home stand, starting with Bowie State and Lincoln (Pa.). Chowan will face Barton, Virginia Union, and Mount Olive the following week prior to heading out on the road once again.

Chowan takes on Francis Marion, USC Aiken, and Mount Olive in non-conference action along with CIAA foe, Virginia Union on the road. The Hawks will host Virginia State on October 29 in the final home contest of the season.

The Hawks will look for their fourth CIAA Title at the CIAA Volleyball Championships in Salem, Va. starting on November 8.