No College in America was created for Athletics, but for Education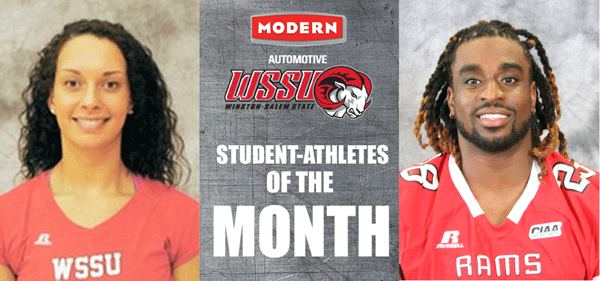 Winston-Salem State University Athletics Student-Athlete of the Month honorees Jasmine Smith and Kerrion Moore
Senior, Jasmine Smith, is an outside hitter on the WSSU Rams volleyball team. Jasmine had a great opening weekend for the Rams at the Queens (N.C.) Fall Invitational. She finished the week with 48 kills and five total blocks (one solo). She also added 11 digs. For her efforts she was named CIAA Volleyball Player of the Week. Jasmine is a leader for the Rams always the first in and last one out of practice. The Rams have won five matches in a row. Smith is currently second on the team in kills with 86. Jasmine is also fourth in the CIAA in kills per set with 2.61 and her 86 kills ranks her fifth overall in the CIAA.

Junior, Kerrion Moore, a member of the WSSU Rams football team, has rushed for 415 yards and five touchdowns in the first three games of the season. Kerrion earned Boxtorow National Player of the Week honors versus UNCP. Moore currently is second in the CIAA in rushing averaging 138.3 yards per game. His 415 yards from scrimmage is tops in the league.
No college in America was established for Sports but for Education.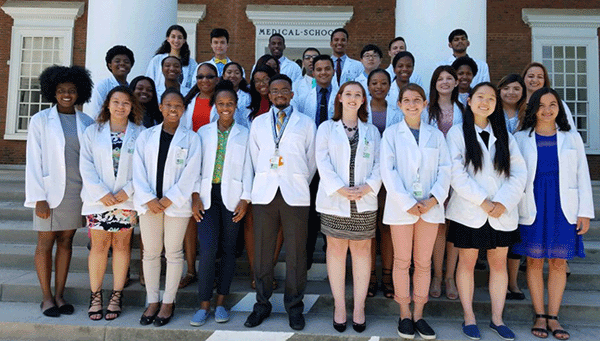 PETTAWAY BROADENING HORIZONS OFF THE COURT
Evann Carpenter
MURFREESBORO, N.C. - For most student-athletes the summer is a relaxing time before returning to campus for another intense academic and athletic year. For Jordan Pettaway, member of the Chowan Women's Basketball program, this summer is all work and no play. Pettaway was one of 30 undergraduate students nationwide to spend six weeks at the University of Virginia School of Medicine in their new Summer Medical Leadership Program. The Summer Medical Leadership Program (SMLP) is an intensive six-week residential medical academic enrichment program for 30 undergraduate students that make up underrepresented groups and/or disadvantaged backgrounds who are interested in pursuing careers in medicine. The number one goal of SMLP is to expose the participants to the "real world of medicine" to prepare them not only for admission to medical school but to assume future leadership positions in medicine/biomedical field.