Three NCCU Football Games to Air on ESPN Networks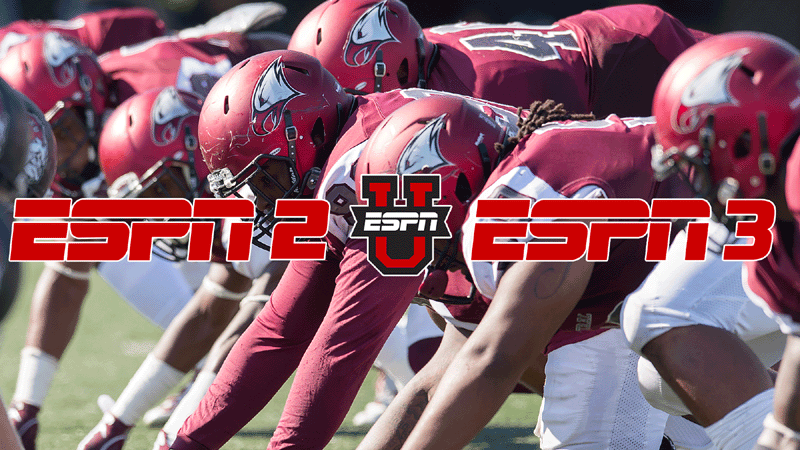 Kyle Serba

NORFOLK, Va. – North Carolina Central University will be featured in front of a national television audience when three of the Eagles' football contests this season will air on ESPN networks, the Mid-Eastern Athletic Conference has announced as part of its broadcast partnership with ESPN.

NCCU's season-opening contest against Prairie View A&M in the MEAC/SWAC Challenge in Atlanta on Sunday, Sept. 2 will be televised live on ESPN2 starting at 12 p.m.

Two weeks later, the Eagles visit Orangeburg, South Carolina, to take on the Bulldogs of S.C. State on Saturday, Sept. 15 at 6 p.m. in a contest that will air live on ESPN3 and later that night on ESPNU.

NCCU's road game at Bethune-Cookman has moved to Thursday, Nov. 8 at 7 p.m. in order to have the match-up televised live on ESPNU.

Since 2011, when NCCU gained full NCAA Division I membership, the Eagles have played 15 football games that aired on ESPN networks, plus the 2016 Celebration Bowl televised live on ABC.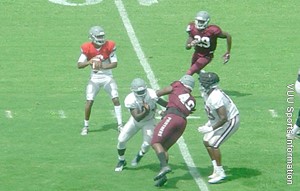 VUU-WSSU Game to be Part of ESPN D-II Showcase Jim Juno

8/25/2018 | Football

The NCAA has announced that the Virginia Union University-Winston-Salem State University football game will be broadcast as part of the network's Division II Football Showcase at 6:05 p.m. on Saturday, September 22, in Winston-Salem, N.C.

19 regular-season football games will be showcased on ESPN3 or NCAA social media as part of a new media agreement intended to promote the division on several platforms throughout the academic year.

The first 19 games of the football showcase are predetermined games, 17 of which are conference matchups. An additional three flex games - intended to highlight crucial matchups - will be finalized later in the season and played in November.

The VUU-WSSU game is the only CIAA game included in the schedule.

The game means that Virginia Union football will be featured on a national television broadcast twice this season. The VUU-Bowie State game on October 20 will be broadcast nationally by the AspireTV network.

"Division II student-athletes will continue to see their successes highlighted on a national stage in the new broadcast agreement," said Terri Steeb Gronau, vice president of Division II. "We are excited to continue to collaborate with ESPN to promote regular-season games. We are also excited to offer a hybrid model that could include linear and online distribution. Fans will have the chance to watch student-athletes who achieve success both on and off the field and participate in Division II's Life in the Balance collegiate experience."

Of the teams competing in the slate of games, 14 appeared in the 2017 Division II playoffs, and 15 begin the 2018 season ranked in the top 25 of the American Football Coaches Association Division II poll.

"The football showcase has an outstanding slate of games," said Reid Amos, chair of the Division II Football Committee and commissioner of the Mountain East Conference. "We have the opportunity to continue to highlight our exciting brand of football in NCAA Division II, culminating with the championship in December."

ESPN3 is ESPN's live multiscreen sports network, a destination that delivers thousands of exclusive sports events annually. It is accessible on computers via ESPN.com and on smartphones, tablets and streaming devices through the ESPN app. The network currently is available nationwide at no additional cost to fans who receive their high-speed internet connection or video subscription from an affiliated service provider. It also is available at no cost to U.S. college students and U.S.-based military personnel via computers, smartphones and tablets connected to on-campus educational and on-base military broadband and Wi-Fi networks.