SWIM
Howard Men's Swimming & Diving Closes Out Weekend at the CCSA Championships
Several Bison finish strong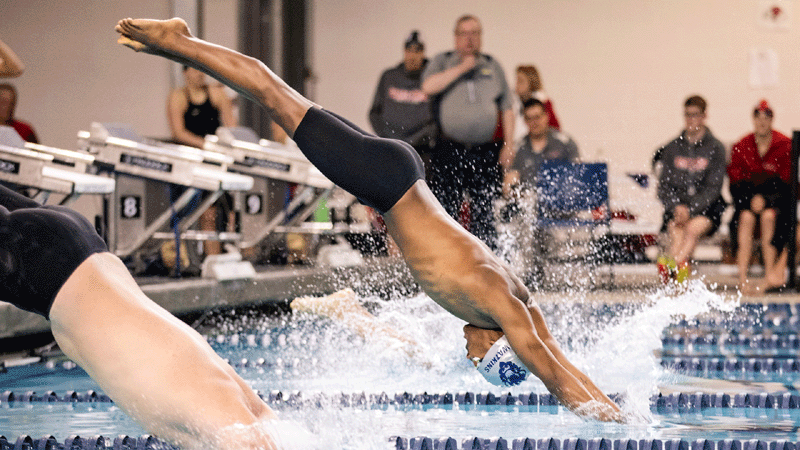 (Photo Credit – CCSA)
Derek Bryant
LYNCHBURG, Va. (February 23, 2019) – Howard University men's swimming & diving team closed out the season with a solid outing at the Coastal Collegiate Sports Association (CCSA) Championships.

After putting on a record-setting display Friday (Feb. 22), sophomore William Speakman Smith II (Jacksonville, Fla.) delivered an encore performance in the men's 200 Breast, posting the third (2:07.43) and fourth (2:08.15) fastest times in Bison history.

Smith, alongside junior Maalik Nixon (Peachtree City, Ga.), sophomore Kegan Ford (Port-of-Spain, Trinidad & Tobago) and freshman Miguel Davis, Jr. (Prince George's County, Md.) teamed up for the 400 Freestyle Relay where they recorded the school's fourth-best mark (3:09.12).

Individually, Ford competed in the men's 100 Free and registered the sixth (46.63) and eighth (46.73) fastest times in program history.

Seniors Alexander Barnes (Rockledge, Fla.) and Farion Cooper II (Nassau, Bahamas) closed out their collegiate careers by etching themselves in the school's record books. Barnes' 2:01.97 in the 200 Butterfly sits 10th all-time while Cooper produced a pair of Top 10 performances in the 200 Back with 1:57.08 (third-best) and 2:00.45 (10th-best).


Other notable Bison leaving their mark over the weekend include junior Noah Nicholas (Atlanta) in the men's 1650 Free (17:05.66; third-fastest in school history) and second-year swimmer Jon Bendana (Bowie, Md.) in the 200 Butterfly (1:59.54; sixth-best in program history & 2:00.21; eighth-best in program history).

Overall, the Bison scored 248.5 points and placed seventh.

Incarnate Word claimed the 2019 CCSA Men's Swimming & Diving Championship for the second consecutive year.

To view all the results from the 2019 CCSA Championships, please click here.

At the CCSA Championships, Howard set nine school marks total, including Smith's record-setting performance in the men's 100 Breast.

Also, the CCSA Championships saw 10 Bison competing in their final collegiate meet, including seven men: Barnes; Cooper; Justice Brown-Duso (Cranston, R.I.), MenSa Eggleston (Mount Rainer, Md.), Nicholas Haughton (Kingston, Jamaica), Jonathan Hill (Vero Beach, Fla.) and Mark McCluskey (Hope, Maine).

HU men finished 2-0 inside Burr Pool.

For more information, visit the Bison Athletics website at www.HUBison.com.
Howard Swimmer Set to Compete in 2020 Summer Olympics

Senior Latroya Pina to swim for Cape Verde at the 2020 Summer Olympics in Tokyo

(Photo Credit – CCSA)

Derek Bryant

WASHINGTON (August 21, 2018) – Howard University senior swimmer Latroya Pina (Seekonk, Mass.) will swim for Cape Verde at the 2020 Summer Olympics in Tokyo, Japan.


Pina, alongside her siblings, Troy and Jayla, were selected to represent the Cape Verde National Swim Team in the Confederation Africaine de Natation Championship Meet, scheduled for Sept. 10-16 in Algeria.

"It's not far-fetched, three members of one family all going to the World Championships and the Olympic Games," said Pina to The Sun Chronicle. "We're not just swimming for our colleges or schools, but for a nation so we want to do our best."

The family is part of the first team from the African nation island that fielded at the competition; thus, granted an automatic berth to the Summer Games.

"To represent your country at the Olympic level is every swimmers dream," said Howard Swimming & Diving Head Coach Nicholas Askew. "We are excited for Latroya [Pina] and have no doubt, she will make Howard University and Cape Verde very proud."

During the 2017-18 season, Pina was selected HU Bison of the Month for her outstanding performances in January. She won the women's 100 breaststroke and 200 individual medley in Howard's Senior Night victory over Marymount. Pina led the way in the season finale at Catholic, claiming the top spots in the same events. The Massachusetts native was also part of two winning relay teams against the Cardinals: 200 medley and 200 freestyle.

Academically, the Biology major received multiple honors, including being named to the 2018 Mid-Eastern Athletic Conference (MEAC) Commissioner's All-Academic Team and 2018 Eastern College Athletic Conference (ECAC) Spring President's Honor Roll List. Pina maintained a 3.6 or better during the 2017-18 academic calendar year.

After wrapping up her junior year in the pool, Pina joined the Howard Women's Lacrosse team in the spring where she saw action in nine matches.

The 2020 Summer Olympics in Tokyo, Japan begins Friday, July 24, 2020 through Sunday, Aug. 9, 2020.

Coach Askew and the Bison begin their 2018-19 season in September.

For more information, visit the Bison Athletics website at www.HUBison.com.
Askew, Howard Swimming & Diving Welcomes New Faces to the Program
Seven new Bison join the nation's only HBCU Swimming & Diving program


Derek Bryant


WASHINGTON (August 28, 2018) – Coach Nicholas Askew and the Howard University Men's & Women's Swimming & Diving teams welcomed seven new Bison to the nation's only Historical Black Colleges and Universities (HBCUs) swimming & diving program.

"This is a special time for our program," said Askew. "[Us] having such a strong core of returners, beginning with the leadership in our seniors. We are thrilled to welcome some of the Nations' finest swimmers to our Swim & Dive family. They each bring skillsets that will drastically fortify our depth on our rosters, especially on the women's side."


Entering this season, Coach Askew will have 11 seniors to spearhead this year's squads: eight men and three women. Over the past two seasons, Howard has shattered 35 school records, including 22 from a year ago.

Here is more information on the seven new Bison:

Miguel Davis, Jr. (Temple Hills, Md.) – Breast/Free


Davis comes to The Mecca from Prince George's County where he received All-Met Honorable Mention. Academically, the Maryland native is a member of the National Honor Society and National Art Honor Society.


Asha Evans (Atlanta, Ga.) – Free/Back


Evans joins the program from Atlanta where she chose Howard for the combination of an increasingly competitive swim team and the ability to attend a prestigious black university.


Madison Freeland (Glenside, Pa.) – Mid-Distance/Distance


Freeland brings a decorated background to The Hilltop after being selected to the All Inter-Ac First Team three times. She also won the 2018 Inter-Ac Championship and 2018 Eastern Scholastic Championship.


India Jackson (Philadelphia, Pa.) – Breast/IM


Jackson reaches our Nation's Capital from Philadelphia, Pa. where she selected Howard because of the family dynamic and the sense of community on campus.


Simone Outlaw (Burlington, N.J.) – Backstroke


Outlaw arrives in D.C. from Hawthorne Christian Academy (Hawthorne, N.J.) where she is the team record holder in the 100-yard backstroke. Academically, she won 2017 State of New Jersey Department of Education Rising Scholars Award.


Josiah Scott (Cedar Park, Texas) – Freestyle


Scott joins the Bison Family from Cedar Park, Texas where he could not pass up the experience and environment that the Howard University swim team brings.


Myka Thomas (Philadelphia, Pa.) – Free/Fly


Thomas hails from the City of Brotherly Love where he earned All-Conference in the 50-yard and 100-yard freestyles. She also placed first in the Scholastic Rowing Association of America​ (SRAA) National Championships Regetta Junior Quad.


For more information, visit the Bison Athletics website at www.HUBison.com.
CU Swims To Two Records In Day One Of SCAD Invite Evann Carpenter




SAVANNAH, Ga.- After the opening night of competition at the SCAD Invitational, the Chowan Swimming team sits in ninth place in a strong field.

THE BASICS

Day One Results | Chowan- Ninth 30pts

LOCATION | Savannah, Ga.

INSIDE THE LANES

200 Medley Relay

Chowan picked up a ninth place finish in the event with a time of 1:51.01. Julia Chmielewska and AnnMarie Spikerstarted off the relay with Jasmine Gibson and SheAyre Bowles finishing strong for the Hawks.

500 Free

Kjahna O finished 18th overall in the event with a program-best time of 5:15.92.

200 IM

AnnMarie Spiker finished the event with a season-best time of 2:19.46. Sarah Hull finished with a time of 2:37.72.

50 Free

Julia Chmielewska grabbed two points in the event with a 15th overall finish. Chmielewska touched the wall at 24.85 just off a season-best time. Grace Arredondo finished with a time of 25.57, while SheAyre Bowles (25.64), Jasmine Gibson (25.81), and Ashley Hernandez (26.16) rounded out the competition in the event for the Hawks.

800 Free Relay

Chowan posted a school record in the event with a time of 8:10.81 to finish 13th overall. AnnMarie Spiker and Grace Arredondo started off the relay with Jasmine Gibson and Kjahna O finishing it off.

UP NEXT

Chowan will jump back in the water on Friday in the second day of competition at the SCAD Invitational.
Chowan Adds Men's Swimming As 19th NCAA Sport [picture]

Evann Carpenter

MURFREESBORO, N.C. – Chowan University President, Dr. M. Christopher White, and Chowan Athletics announce the addition of men's swimming as the Hawks' 19th NCAA sport for the 2018-19 academic year to compete alongside the women's program. Recruiting for the program will begin immediately.

"We are thrilled to announce the addition of the men's swimming program here at Chowan University, giving us our 19th NCAA sport," said Athletic Director Patrick Mashuda. "Another team getting to compete in the Bynum Brown Aquatic Center is a welcomed addition to our athletic footprint."

"The women's swim team has been a tremendous success," stated Dr. White. "I anticipate the men's team will too. Men's swimming is just another step on Chowan's road to greatness."

Current head women's coach Matt Hood will also handle coaching duties for the new men's program. Hood was hired in May of 2015 and currently in his second season finishing 11th overall in a strong Bluegrass Mountain Conference.

"I am thrilled about the addition of the men's swimming program," stated Matt Hood. "It will add a new dynamic to the swim program, which will help everyone compete at a higher level. It will bring a stronger energy and excitement to the competition environment at home and on the road. We will be following a similar plan as we did with the women's program by bringing in a strong core group of swimmers who will be competitive from the beginning and ready to continue improving."

Chowan will become the fifth member of the Conference Carolinas with both men's and women's swimming programs making men's swimming an emerging Conference Carolinas sport. Barton, Emmanuel, King (Tenn.), Lees-McRae, and Limestone feature both programs as Converse has only women.

Competition for the Men's program will begin during the 2018-19 season alongside the women's program starting their third season.