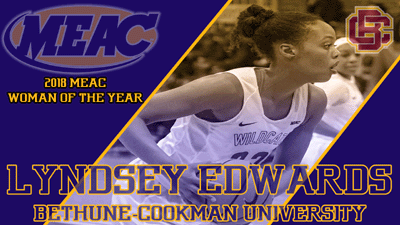 MEAC NAMES LYNDSEY EDWARDS 2018 WOMAN OF THE YEAR

Jeff Cunningham

NORFOLK, Va., June 18, 2018—The Mid-Eastern Athletic Conference (MEAC) has named Lyndsey Edwards from Bethune-Cookman University as the 2018 Woman of the Year, the conference office announced today.

The award, selected annually by the MEAC Senior Woman Administrators, celebrates the achievements of senior female student-athletes who have excelled in academics, athletics, service and leadership.

"I would like to congratulate Lyndsey Edwards for having a spectacular career, not only in women's basketball, but in her academic pursuits as well," said MEAC Commissioner Dr. Dennis Thomas. "In addition, her service to the community is truly exceptional. I would like to thank the Bethune-Cookman University athletic staff, coaches, academic support personnel and Lyndsey's family, who had an influential part in Lyndsey's success. I wish her continued success in her future endeavors."

Edwards, a native of Indianapolis, Ind., was part of three MEAC regular-season championship squads with the Wildcats – sharing the title in 2015-16 and 2017-18, and winning outright in 2016-17 – and her teams made three straight postseason WNIT appearances.

This past season, she was one of two seniors on a B-CU squad that set a program record for wins in a season (24) and notched its second straight 20-win campaign.

In addition to helping the Wildcats establish themselves as one of the MEAC's top women's basketball programs, Edwards excelled in the classroom. She had a 3.83 GPA at Bethune-Cookman, where she majored in accounting, and she was named to the MEAC Commissioner's All-Academic Team three times (2016-18).

She was a member of the National Association of Black Accountants and served as president of B-CU's Student-Athlete Advisory Committee (SAAC). In addition, she had a hand in starting a Fellowship of Christian Athletes (FCA) huddle – the first of its kind in Bethune-Cookman's history.

Given B-CU's status as a faith-based institution, and the busy nature of student-athletes' schedules, Edwards realized there was potential to not only bring student-athletes together, but to bring them closer to Christ.

B-CU's first-ever FCA huddle took place on April 23. For her efforts, Edwards was named FCA Servant Athlete of the Year.

Edwards will represent the MEAC as its nominee for the NCAA Woman of the Year award. The NCAA established this award in 1991 to celebrate the achievements of women in intercollegiate athletics. Now in its 27th year, the award is unique because it recognizes not only the athletic achievements of outstanding young women, but also their academic achievements, community service and leadership.

The NCAA Woman of the Year winner will be announced on Sunday, Oct. 28 at the awards dinner in Indianapolis, Ind.

Morgan State tennis student-athlete Danielle Thompson was the 2018 MEAC Woman of the Year runner-up. Thompson, who was also nominated for NCAA Woman of the Year, graduated last month with a 3.01 GPA, earning a Bachelor's degree in hospitality management.

MEAC Woman of the Year Honorees

2006 Renecia Lovelace, North Carolina A&T State (Softball)

2007 Courtney Smiley, Howard (Basketball)

2008 Jessica Worsley, Maryland Eastern Shore (Bowling)

2009 Loreal Smith, North Carolina A&T State (Track and Field)

2010 Kalyn Washburn, Delaware State (Bowling)

2011 Kristina Frahm, Maryland Eastern Shore (Bowling)

2012 Jazmyne Hefflefinger, Delaware State (Bowling)

2013 T'nia Falbo, Maryland Eastern Shore (Bowling)

2014 Christina Epps, Coppin State (Track and Field)

2015 Mariana Alvarado Nava, Maryland Eastern Shore (Bowling)

2016 Jenny Tracy, North Carolina Central (Softball)

2017 Thashaina Seraus, Maryland Eastern Shore (Bowling)

2018 Lyndsey Edwards, Bethune-Cookman (Basketball)
CU Swimming Posts Ninth Best GPA In Division II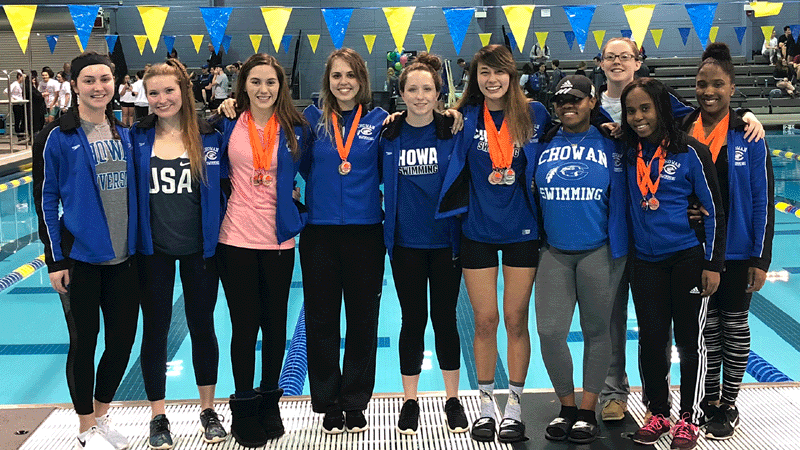 Evann Carpenter

NORFOLK, VA. - The College Swimming and Diving Coaches Association of America (CSCAA) has named 710 teams to its Scholar All-America list for the Spring 2018 Semester. The teams represent 476 institutions from across all NCAA, NAIA and NJCAA Divisions. The CSCAA recognizes teams with the Scholar All-America Award for achieving a team GPA of 3.0 or higher.

For the second straight semester, Chowan was named as a Division II Scholar All-American Team. In the Fall of 2017, the Hawks produced a 3.54 team GPA and improved on the GPA in the Spring with a 3.61 team average.

The Hawks excelled in the pool and in the classroom as their 3.61 team average ranked ninth among all Division II women's swimming programs.

Chowan was one of two Conference Carolinas programs to earn the distinction with Barton posting a 3.35 team GPA.

Complete list of both men's and women's programs to earn the Academic Recognition click here.
Aggie Stadium to be Renamed BB&T Stadium

Todd Simmons
GREENSBORO, N.C. (June 14, 2018) – North Carolina Agricultural and Technical State University's Aggie Stadium, home to the reigning historically black college and university (HBCU) football national champions and track teams that have won seven conference championships over the past two years, will be renamed BB&T Stadium, thanks to a significant gift from the banking and financial services corporation, officials announced today.

The $1.5-million gift will secure the naming rights of the 37-year-old facility for the next 15 years and will go toward renovations and upgrades of the A&T athletics complex, including the stadium. That includes improvements to the in-stadium Irwin Belk Track, as well as numerous other upgrades around the stadium.

"Athletics are often described as the front doors for universities, the entry point for those outside our campuses to learn about our campuses and institutions," said Earl Hilton, A&T's director of Intercollegiate Athletics. "The success of our sports teams this past year has created a new level of visibility for athletics at A&T, and we are truly appreciative of BB&T's support that will help us put our best foot forward in our facilities."

The 125,755-square-foot facility that will now be known as BB&T Stadium opened in 1981 and was expanded in 2003 to its current seating capacity of 27,769. Other enhancements have been added over the years, including lighting to accommodate night games and practices and a state-of-the-art video scoreboard.

The Irwin Belk Track that rings the stadium's football field is not only home base for the A&T track teams, but collegiate, high school and amateur meets that have drawn thousands of athletes from around the country. The A&T football team won five games at Aggie Stadium last fall on its way to an undefeated 12-0 season, capped by 21-14 win over Grambling State in the Celebration Bowl, representing the national championship.

Those teams were part of an overall athletics program that won MEAC conference championships, conference tournaments and/or MEAC Southern Division titles in football, men's and women's track, women's basketball, bowling and baseball.

"As a local corporate citizen, BB&T has a strong track record of supporting the communities it serves," said Ford Bowers, BB&T Greensboro Market President. "We are proud to work with A&T and very excited that the stadium will display the BB&T name."

"As part of our mission, BB&T strives to make the communities in which we work better places to live and we are proud to support North Carolina Agricultural and Technical State University," said Cantey Alexander, BB&T Triad Regional President. "The Greensboro market is very important to BB&T and this investment is a perfect fit. We are pleased to support this great venue which enhances the region's vibrancy and raises the awareness of BB&T and our commitment to the communities we serve."
NCCU's Koerner Named to USA Baseball Coaching Staff
Kyle Serba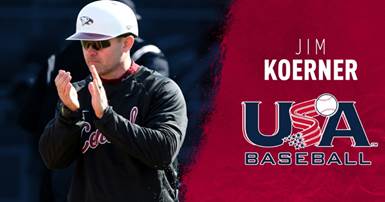 CARY, N.C. – North Carolina Central University baseball head coach Jim Koerner has been named technical advisor for the USA Baseball Collegiate National Team during the 18th USA vs. Chinese Taipei International Friendship Series from June 28 to July 1, USA Baseball has announced.

"I want to thank Eric Campbell of USA Baseball for this opportunity," Koerner said. "It's an honor to be a part of the premier amateur baseball organization in the country. I'm excited to be able to represent NC Central and to be involved with some of college baseball's best athletes and coaches." Attached photo courtesy of Red Rocket Photography
Koerner has spent six seasons coaching at NCCU and has amassed 131 wins during his time, including a school record 28 victories during the 2018 season. The Eagles got off to its best start in program history in 2018 by going 9-3, and also captured votes in the NCBWA Top-30 Poll for the first time.

Koerner will work with the Collegiate National Team during the International Friendship Series with Chinese Taipei, which will be a four-day, four-game series. The first two games will be played at Coleman Field in Cary, North Carolina, on June 28 and 29, before heading to the Durham Bulls Athletic Park on June 30. The series will then return to Coleman Field for the finale on July 1.

Koerner will be responsible for coordinating with the umpires and making sure that they are aware of all rules and ground rules for the series. He will also insure the quality of game baseballs and settle any game disputes immediately.

The USA Baseball Collegiate National Team (CNT) is comprised of the top collegiate baseball players in the country. The team competes each summer in a schedule of exhibition games across the U.S. and overseas against the world's top baseball talent. As part of this schedule, the U.S.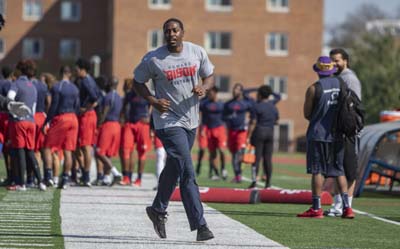 London, Howard Football Promote Dowling to Cornerback Coach
Former NFL vet ready to mentor Bison secondary
Derek W. Bryant
(Photo Credit – David Sierra)

WASHINGTON (July 5, 2018) – Head Coach Mike London and the Howard University Football team promoted former NFL defensive back Ras-I Dowling as its new cornerback coach after spending last year as a defensive quality control coach.

"I am extremely grateful for the opportunity to be a part of the HU football family," Dowling stated. "I am excited to be coaching the cornerbacks and share my knowledge and experience with these young men. I hope to lead by example in all areas to help the players reach their fullest potential, both on and off the field."

After being drafted as the highest defensive back in University of Virginia (UVA) history, Dowling played five seasons in the NFL. In 2011, the Virginia native was selected by head coach Bill Belichick and the New England Patriots with the 33rd overall pick in the NFL Draft.

In his five-year career, Dowling was a member of two Super Bowl teams: 2011 New England Patriots and 2015 Carolina Panthers. He also spent time with the New York Jets and the Oakland Raiders.

"I'm excited about the opportunity to add Ras-I [Dowling] to our staff," said London. "I know him well and I have seen his development from a college student-athlete to an NFL draft pick, father and husband. He is a great addition to an already outstanding staff."

During his time at UVA, he was under Coach London's tutelage where he earned multiple awards. In 2010, the three-time All-ACC honoree made the league's First Team while reaching All-American status. Dowling was a team captain and a member of the Fellowship of Christian Athletes (FCA).

Dowling received a full athletic scholarship to play football at Virginia after being a three-sport student-athlete (football, basketball, and track & field) throughout his high school career.

Dowling was born in North Charleston, South Carolina, but moved to Chesapeake, Virginia at an early age where he played both sides of the ball at Deep Creek High School. As a senior, he recorded 60 tackles and two interceptions as a defensive back. As a receiver, he had 14 receptions for 255 yards and four touchdowns.

For more information, visit the Bison Athletics website at www.HUBison.com.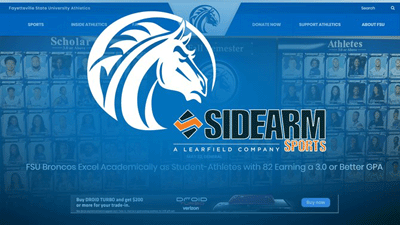 Fayetteville, NC - The Fayetteville State University Department of Athletics teamed up with industry leader SIDEARM Sports to launch a redesign of its official website - FSUBroncos.com - on Tuesday, July 3rd.

Ferguson, Adrian F

The new website now offers a sleek new design that caters to an enhanced online experience. The fresh look, accessible navigation, and a responsive design adapt to the user's device (desktop, tablet, or mobile).

"It has been a great experience working with SIDEARM Sports to offer a new digital experience to our community, said Sports Information Director Adrian Ferguson. "The new website highlights our student-athletes while promoting our teams through our digital media platforms."

The revamped website features larger photos and a media wall featuring Facebook, Twitter, Instagram, and YouTube posts in a larger and easier to view format. From the new media wall, fans can instantly follow @FSUBroncos and link to the social media homepages.

Student-athlete profiles will highlight related articles and quick access to season and career statistics.

A Gameday landing page will provide links to rosters, statistics, and game-related media and broadcast.

A new scoreboard will show upcoming events and a tab for recent scores.

Photo galleries and videos have also been enhanced.

FSUBroncos.com has now switched from a CBS Interactive platform to Sidearm Sports. In Mid-February, CBS Interactive Advanced Media and Learfield's SIDEARM Sports announced a new partnership to jointly produce and operate more than 1,100 college and high school athletic websites and stream more than 14,000 live events each year.

SIDEARM Sports, the leading provider of collegiate athletic web solutions, will manage the website and mobile platforms while providing the hosting and infrastructure for all of the schools. The SIDEARM platform delivers engaging fan experiences focused on driving revenue opportunities, promoting brand awareness and efficiently delivering timely athletic department digital content. SIDEARM will now provide the digital platform for nearly 800 NCAA colleges, universities, and conferences.

CBS Interactive Advanced Media will manage video infrastructure and distribution as well as end-to-end advertising operations for all of the schools. A division of CBS Sports Digital, CBS Interactive Advanced Media is the category leader in the delivery of integrated multimedia and digital solutions for clients primarily focused on sports and entertainment. The division streams thousands of live events each year.


About SIDEARM Sports
Acquired by collegiate marketer Learfield in June 2014, SIDEARM Sports is the nation's leading digital provider serving more than 1,000 partners. Based in Syracuse, N.Y., SIDEARM Sports was founded in 2000 by Jeff Rubin, who continues to lead the business. Clients applaud SIDEARM for its service, reliability, and customization, and its easy-to-use interface allows schools to customize their content streams and digital presence. As a leader in collegiate athletic web solutions, SIDEARM Sports provides the software and technology that powers websites, mobile applications, live stats, social presence and video streaming for its school and conference partners. Learfield is a diverse media enterprise anchored by its core collegiate business managing multimedia rights and sponsorship initiatives for nearly 130 institutions, conferences, and arenas nationwide.

About Fayetteville State University
Fayetteville State University is a constituent institution of The University of North Carolina and the second-oldest public institution of higher education in the state, having been founded in 1867. FSU offers degrees at the baccalaureate, master's, and doctoral levels. With more than 6,200 students, Fayetteville State University is among the most diverse institutions in the nation. Chancellor James A. Anderson is the 11th chief executive officer.
Read More
For more information of Fayetteville State Athletics, visit FSUBroncos.com and follow the Broncos through its social media platforms via @FSUBroncos on Twitter and Facebook and via @FSU_Broncos on Instagam.
Gibbs Named to 2018 NCCSIA College Division All-State Team

Rams softball hitter earns post-season honor

Trevin Q. Goodwin

WINSTON-SALEM, NC – Winston-Salem State senior designated hitter Samantha Gibbs earned yet another post-season honor when she was named to the North Carolina Collegiate Sports Information Association (NCCSIA) College Division All-State team. She took home second team honors after a great season with the Rams.


She battled through injury to remain one of the top hitters on the Rams this season. She finished season with a .298 batting average that included 28 hits in 94 at-bats. She recorded six doubles with five home runs and totaled 24 RBI. For her efforts, she was a first team Central Intercollegiate Athletic Association (CIAA) All-Conference selection.


For more information on Rams softball log on to www.WSSURams.com.
CU Women's Soccer Releases 2018 Slate




MURFREESBORO, N.C. – The Chowan Women's Soccer program released their 2018 slate on Thursday featuring nine of the 16 matches at Hawks Soccer Field.

The Hawks, entering their second season in Conference Carolinas league action, will look to improve upon the Conference Carolinas Semifinals appearance in 2017. Chowan finished the year with a school record best 12-3-2 overall record and an 8-2-1 record in league play.

The Blue and White will open the year on the road against NCAA Tournament opponent UNC Pembroke on August 30. The Braves secured the Peach Belt Conference Championship and appeared in the NCAA Tournament after a 15-5-1 overall season. Chowan will host up-start program, Shaw, in their home opener two days later, September 1, at 3pm.

Chowan will open up Conference Carolinas play against defending league champion, Limestone, on September 8. The Hawks will alternate league and non-league games in the month of September traveling to face Lincoln (Pa.) during the week before heading to Banner Elk, N.C. to face Lees-McRae on September 15. CU will host Washington Adventist and Southern Wesleyan the following week prior to wrapping up the month at home against Lincoln (Pa.) and Erskine.


In the month of October, Chowan kicks off the month with a midweek against Mount Olive at home on October 3 before heading to South Carolina to face North Greenville. Chowan will travel to Barton on October 10, then wrap up the home slate against King (Tenn.) and Converse on October 13 and 17 respectively.

The final two contests of the regular season will feature Emmanuel (Ga.) and league power Belmont Abbey.

After grabbing the #2 seed last season, the Hawks will look to vie for the title as the 2018 Conference Carolinas Women's Soccer Championship starts on October 30.

The full schedule for the 2018 season can be found here.
Hawks Men's Soccer Announces Tough 2018 Campaign


MURFREESBORO, N.C. – The Chowan Men's Soccer program released their 2018 campaign on Monday, as the Hawks look for their first-ever NCAA Tournament bid.

Chowan finished the 2017 season on the outside looking in with an 11-5-2 overall record and a ninth place ranking in the NCAA Southeast Region. The Hawks finished their first season in Conference Carolinas action with a 5-3-2 record, good for fourth in the league.

The Blue and White will kick-off their season at home on August 30 against Shaw at 4pm, before heading to South Atlantic Conference power, Wingate, on September 5. The Hawks defeated Wingate last season in Murfreesboro, 1-0. The Bulldogs would go on to finish the year 14-4-2 and fall to Lander in the Regionals on penalty kicks.

The Hawks will open Conference Carolinas play on September 8 at Hawks Soccer Field against defending league champion, Limestone, prior to heading to Banner Elk, N.C. the following weekend to face Lees-McRae. Limestone finished the year with a 15-3-2 overall record and an appearance in the NCAA Regionals.

In the final two weeks of September, Chowan will welcome non-conference foe, Francis Marion, along with league members: Southern Wesleyan and Erskine. Chowan will make a trip to South Carolina to face Newberry in a non-conference match.

Chowan will look to finish the season strong facing Mount Olive and North Greenville to open the month of October. The Hawks will then make the short drive to Wilson, N.C. to face Barton before hosting King (Tenn.) and Lander in the final home contests. The nationally-ranked Bearcats of Lander finished the year with a 13-4-3 overall record after falling in the Southeast Regional Championship match.

The final three matches will be on the road against league foes: Emmanuel (Ga.) and Belmont Abbey, along with a non-conference match against Queens (N.C.).

The full schedule for the 2018 Chowan Men's Soccer season can be found here.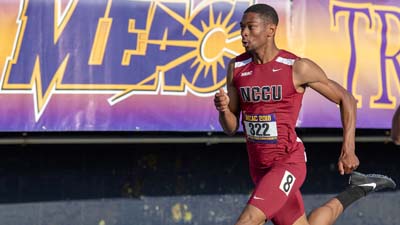 NCCU's Lewis Places Seventh in 200m Dash at USATF Junior Championships

Kyle Serba

BLOOMINGTON, Ind. – North Carolina Central University freshman Gordon Lewis placed seventh in the 200-meter dash and 12th in the 400m dash at the 2018 USATF Junior Outdoor Track & Field Championships on June 15-17 at Indiana University in Bloomington, Indiana.


A native of Fredericksburg, Virginia, Lewis qualified for the 200m dash finals with a first-round time of 21.13 seconds on Saturday, and then ran a 21.43 in the finals on Sunday.


In Saturday's first round of the 400m dash, Lewis posted a time of 47.98 to finish in 12th place.


The USATF Junior Outdoor Championships, which featured hundreds of the nation's top Under-20 athletes, serves as Team USATF's selection event for the 2018 IAAF World U20 Championships on July 10-15 in Finland.

During his first collegiate season, the 19-year-old posted season-best times of 20.82 seconds in the 200m dash preliminaries at the MEAC Championships and 47.07 seconds in the 400m dash to place second at the Raleigh Relays.

Lewis also qualified for the 200m and 400m dashes at the NCAA Division I East Preliminary Championships, finishing 34th in the 200m dash with a time of 20.87 and placing 40th in the 400m dash with a time of 47.54.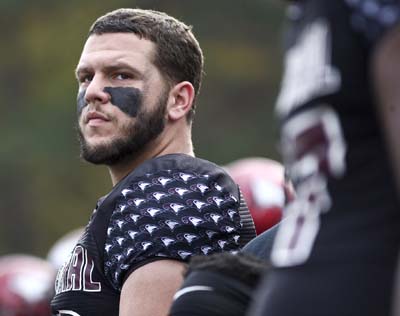 NCCU's Schlecker Named FCS Preseason All-American

DURHAM, N.C. – North Carolina Central University rising senior long snapper Erik Schlecker has been named to the HERO Sports 2018 FCS Preseason All-American Team.

A native of Sunrise, Florida, Schlecker earned a spot on the FCS Preseason All-American Third Team for achieving a 99 percent success rate on his snaps with only one errant snap in the past two seasons at NCCU. The transfer from ASA College also boasts a snap time average of 0.75 seconds.

To his credit, each NCCU teammate Schlecker has snapped for during the 2016 and 2017 seasons – two placekickers and a punter – has garnered all-conference recognition.

For more information about the HERO Sports 2018 FCS Preseason All-American Teams, visit HEROsports.com.
Greensboro again hosting MJBL national youth baseball championships
Larry Barber

RICHMOND, VA – The Metropolitan Junior Baseball League (MJBL), a 52- year-old 501 (c)3 non-profit organization, will present its 28th Annual Inner City Classic July 17– 22 (Tuesday-Sunday) in Greensboro, North Carolina. Greensboro is hosting for a second straight year. MJBL, a national youth organization that boasters the motto "Preparing Our Youth for Success" will offer it's championship series in five different age groups for youth 10-under to 19-under. "MJBL is excited to be headed back to Greensboro. In the past we have been welcomed with open arms and expect another great event. We invite the community to come out and witness the beauty of baseball expressed by these youngsters, " said board chairman Corey Nicholson.

The event was previously held in Greensboro during the 2009 and 2010 baseball seasons. Chicago, Orlando and Richmond hosted the event prior to 2017. The city of Greensboro will host the tournament and games will be played at Barber Park, Leonard Complex, Stoner-White Stadium, Grimsley High School, Latham Park, West Market Street Field, Smith Complex Ballfield and Ed Price Field in High Point. "The immaculate fields that Greensboro possesses were a major factor in solidifying the return of the Classic, " stated MJBL Executive Director William Forrester.


The Classic also features the Bobby Bonds Memorial Symposium. The symposium is a think-tank for issues that plague youth in the African-American communities and how baseball and education can help remedy these problems. Bennett College has signed on as a sponsor and will host the symposium July 18 at 7:30pm in its Global Learning Center at 521 Gorrell Street. Featured panelist among others will be Edd Hayes, president, Black College Sports and Educational Foundation based in Atlanta and Terrence Whittle, head baseball coach at Stillman College located in Tuscaloosa, AL.

The 2018 Classic's opening ceremony along with the skills Showcase and Home Run Derby will be held at Stoner-White on Tuesday, July 17 with a 5pm start. Former Mid-Eastern Athletic Conference Commissioner and MJBL board chair, Ken Free, Sr., is expected to participate. J.B. Baynes, Howard University hall of fame inductee and MJBL North Carolina Commissioner said, "Some of the best youth baseball competition is played right here at the Classic. It's great to have this event back in Greensboro and I hope all baseball enthusiasts will come out and support it." The organization also presents the Pee Wee Robinson Award, which goes to a selected outstanding MJBL player. Last year's winner was Travail Barnes of Greensboro. Last year's team champions were: 19-under (Greensboro Red Sox Prime), 16-under (Chicago Panthers), 14-under (Charlotte Tigers), and 12-under (Greensboro Red Sox). Free explained, "Although the MJBL focuses on the inner city, it's various programs are open to all youth baseball organizations."

"We are excited to host the 28th Annual Metropolitan Junior Baseball League Inner City Classic. We believe Greensboro is the perfect city to deliver a high quality baseball experience through excellent facilities and staff, while also providing numerous educational and cultural enrichment opportunities for the participants while they are in town. We are excited to have another opportunity to show teams from around the country our passion and commitment to building better lives and a better community, " added Austin Homan, Athletics Superintendent for Greensboro Parks and Recreation.

Game times and activity schedules will be placed on website www.mjbl.org.
------------------------------------------
http://www.ibcsports.com/sportsday/2018/