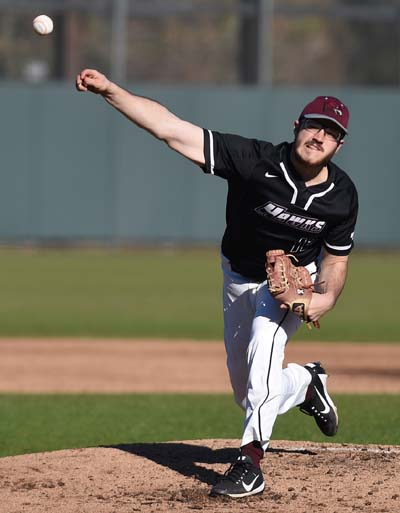 Hawks suffer sweep by Coppin State

The Shore scores just once in 16 innings
Matt Mccann
GLEN BURNIE, Maryland ó Maryland Eastern Shore baseball fell twice Friday (Apr. 6) as the Coppin State pitching staff held the Hawks to just one run over 16 innings. The result was a sweep by the Eagles, who took both games by 3-1 and 3-0 scores, respectively.

The Shore (6-25, 4-8 MEAC) did receive fine pitching performances from their staff. Seniors Evan Bertone (Douglas, Massachusetts) and Toby Hoskins (North East, Maryland) each hurled five innings in their starts but were handed tough losses. Sophomore Andre Bell (Detroit, Michigan) and senior Chris Melrath (Rising Sun, Maryland) offered up scoreless relief appearances.

Coppin State (11-15-1, 10-2 MEAC) surrendered just nine hits in the doubleheader as they take the season series 5-1 over the Hawks.

Eastern Shore senior Jamison Trower (Chesterfield, Virginia) managed two hits in the opening contest.

The lone run scored by the Hawks on the day came in the seventh inning of game one, when they benefited from two Eagle errors to cross home without registering a hit. They would load the bases in the eighth but a double play squashed that rally.

Game two was a four hit shutout by Coppin Stateís Jahmon Taylor and Corey Treyes. The Shoreís best chance came in the fifth, once again loading the bases with one out. Taylor reached back and induced a popup and ground out to end the threat.

Maryland Eastern Shore will try to regain some momentum when they challenge Mount St. Maryís in a doubleheader Tuesday (Apr. 10). First pitch is slated for 1 p.m. at Straw Family Stadium in Emmitsburg.

Bulldogs Softball Splits Home Doubleheader with Virginia Union Lady Panthers

Gregory Goings

With the split, the Bulldogsí division record sits at 3-1, 5-5 in CIAA play and 8-13 overall. The BSU women combined for 16 hits in two games.

In the first game, the Bulldogs tallied seven hits, which included three doubles, and senior pitcher Nicoleen Ochoa (Madison, Ohio) gave up six hits and struck out six going all seven innings. Ochoa and junior Tiffany Bearns (Lusby, Md.) led Bowie State with a pair of hits each. The other hits in the opener came off the bat of senior Jaíseph Smith (Bowie, Md.) and juniors Jaelyn Belt (Glen Burnie, Md.) and Morgan Powell (Upper Marlboro, Md.).

The Bulldogs led the Lady Panthers 1-0 after the first inning before Virginia Unionís Shontel Linnette scored the first visitors run via a wild pitch in the top of the second.

Bowie State pounded out five hits in the third inning to extend its lead to 4-1. Powell led off the third with a double to center and scored from second after a successful bunt single by Ochoa. Ochoa stole second and advanced to third on a wild pitch and later scored on a sacrifice fly by senior Jacqueline Pickering (Bowie, Md.). Three straight singles with the last coming from Belt, pushed Bearns across the plate.

Virginia Union (9-6, 4-4 CIAA, 1-1 North) scored their final run of game one in the top of the fourth inning with Breana Miller scoring during a double play run down.

Miller was Virginia Unionís top hitter in the opening game, recording two hits in thee at bats. As a team, the Lady Panthers had six hits with Linnette taking the loss in the circle.

Virginia Union jumped out to 3-0 lead at the top of the first inning of game two, but Bowie State closed the gap to 3-2 in the bottom of the first.

The Panthers bats came alive in the second inning, scoring seven runs on six hits ending Powellís day after 1.1 innings. Six of those runs were charged against Powell (1-2) leaving the Bulldogs in a 10-2 hole after two complete innings.

The Bulldogs got one run back in the bottom of the third following a sacrifice fly to deep left field by Bearns, scoring Smith who began the inning with a bunt single. However, the deficit was too deep for the home team to overcome.

Senior Lindsey Fenner (Aberdeen, Md.) paced the Bulldogs with two hits while seven other BSU players were responsible for one hit apiece in the game two setback.

The Bulldogs are schedule to host Virginia Stateís Trojans in a division doubleheader on Sunday, April 8 with first pitch at 2 p.m.
Rams Break Out for 12-2 Win at Fayetteville State

WSSU scores seven first inning runs to claim division victory


Trevin Q. Goodwin


FAYETTEVILLE, NC Ė The Winston-Salem State Rams (6-21, 4-4 CIAA) had an offensive surge when the team took a 12-2 five-inning road win over the Fayetteville State Broncos (5-19, 4-4 CIAA). In addition to serving as the teamís first Central Intercollegiate Athletic Association (CIAA) Southern Division win, it also serves as the teamís first road win of the season.

The Rams took the win behind a great offensive effort with 12 runs on 11 hits. Senior first base Anna Marino led the way with three RBI while sophomore Erica Davis went two-for-two with two runs scored while junior short stop Destiny Snipes added a home run.

The Rams scored early and often to take te win along with a tremendous defensive effort. In addition to some great offense, the Rams had a tremendous defensive effort as well. Sophomore pitcher Erica Davis (5-11) allowed just two hits and two runs (two earned) to the Broncos. The Rams wasted little time against the Broncos with seven first inning runs to take a 7-0 lead. After allowing a pair of second inning runs to the Broncos, the Rams added three third inning runs, including a solo home run from Snipes. Senior first base Anna Marino hit an RBI single that capped the teamís scoring a sealed the 12-2 win.

With the win, the Rams improve to 6-21 overall and 4-4 in CIAA play. The team also improves to 1-1 in CIAA Southern Division play as well. The Rams will return to action, Thursday, when the team returns home to host the UNC Pembroke Braves in a 4:00 p.m. doubleheader.
Rams Take Tough 6-5 Loss at Fayetteville State

WSSU opens divisional play with heartbreaking loss


Trevin Q. goodwin


FAYETTEVILLE, NC - The Winston-Salem State Rams (5-21, 3-4 CIAA) opened Central Intercollegiate Athletic Association (CIAA) Southern Division play on a down note when the team took a heartbreaking 6-5 road loss to the Fayetteville State Broncos (5-18, 4-3 CIAA), Friday afternoon. The Rams held a late lead, but a late rally by the Broncos gave the Rams the tough loss.

The Rams took the loss in spite of some solid effort in the game. The team totaled 10 hits in the game with freshman designated player Ryan Oakes leading the way with a two-for-two batting effort. Junior short stop Destiny Snipes was two-for-four with an RBI.

The game was an intense affair from beginning to the end. The Rams took the early lead junior left fielder Jasmine Holloman hit an RBI single to score sophomore second base Daijah Chambers. However, Fayetteville State added a pair of first inning runs, but the Rams answered in the second inning when Snipes hit an RBI bunt single to score Oakes to tie the game, 2-2. Fayetteville State added another pair of runs in the third inning to leave the Rams trailing, 4-2, but Chambers drew an RBI fielderís choice to allow freshman right fielder Destiny Middleton to score and pulled the Rams to within a run, 4-3. Fayetteville State would add a sixth inning two-run home run to leave the Rams trailing, 6-3. The Rams staged a seventh-inning rally with a pair of scores, but the team could not force the seventh inning and took the tough 6-5 loss.

WSSU sophomore Erica Davis (4-11) took the pitching loss. She went all six innings with six runs allowed (six earned). She also added a pair of strikeouts.

With the loss, the Rams fall to 5-21 and 3-4 in Central Intercollegiate Athletic Association play. The team also falls to 0-1 in CIAA Southern Division play. The two teams would go on to complete the doubleheader later in the day.
NCCU Football Adds Two Coaches

Kyle Serba


DURHAM, N.C. Ė North Carolina Central University football head coach Granville Eastman announced the addition of two assistant coaches on Friday, quarterbacks coach Graham Hobbs and wide receivers coach Marcus Windham.

Hobbs, a native of Corapeake, North Carolina, joins the Eagles after spending two seasons with Marshall University as an offensive graduate assistant, working primarily with wide receivers. Hobbs helped tutor First Team All-Conference USA selection Tyre Brady, who recorded 942 receiving yards and eight touchdowns on the season. Marshallís 2017 campaign ended with a victory in the New Mexico Bowl.

After attending Chowan University in North Carolina and playing quarterback for a season, Hobbs transferred to Florida International to finish his bachelorís degree and get his coaching start within collegiate football, first as member of the video staff. He then joined the coaching staff as the offensive quality control coach for the 2014 and 2015 seasons for the Golden Panthers. Hobbs worked with the quarterback and wide receiver positions at FIU, while also helping with film analysis and opponent scouting reports. He left FIU to join Elizabeth City State University as an offensive assistant coach in the spring of 2016, before moving on to Marshall for the 2016 season.

Hobbs graduated from Gates County High School in North Carolina as a three-sport athlete, earning all-conference and all-area honors in football, basketball and baseball for the Red Barons. He earned his bachelorís degree in recreation and sport management from Florida International University in 2015, and completed his masterís degree in parks, recreation, tourism, and sport management from North Carolina State University in 2017.

Windham joins the NCCU coaching staff after stints at Itawamba Community College (Miss.) and University of West Georgia. While at Itawamba as pass game coordinator, wide receivers coach and recruiting coordinator, the Indians had one of the most prolific offenses in the Mississippi Association of Community & Junior Colleges, ranking in the top-5 in total offense in 2015, 2016 and 2017. He was instrumental in helping the Indians achieve a 16-11 record in three seasons (2015-2017), averaging 39.4 points per game during that time.

In 2017, Windhamís wide receiver corps was led by sophomore two-time all-American Terry Williams and sophomore First Team all-state Christian Saulsberry. Williams led the way with 79 receptions for 1,095 with 11 touchdowns, while Saulsberry had a 44 catches for 560 yards with three scores. True freshman Jamel Thomas caught 36 passes for 527 yards and seven touchdowns, while Malik Honeycutt also hauled in 35 receptions for 608 yards and six scores.

Williams, arguably the greatest receiver in Itawamba CC history, shattered school records, including career marks for receptions (144), receiving yards (2,000), 100-yard receiving games (7) and 200-yard receiving games (2). Williams also became the first receiver in school history to earn all-American honors in back-to-back seasons.

Windham grew up in Macon, Mississippi. He earned his bachelorís degree in community recreation from Southwest Baptist University, where he was a wide receiver and punt returner, finishing with 142 receptions for 1,355 yards and 10 touchdowns.

Windham replaces former NCCU wide receivers coach Jermaine Gales, who is now the offensive coordinator at the University of Arkansas at Pine Bluff.

Hobbs steps in as the quarterbacks coach, while T.C. Taylor focuses on his role as offensive coordinator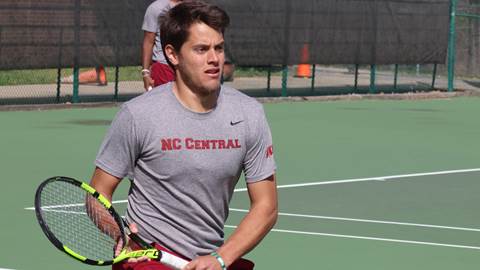 Cucalon Nets NCCUís Lone Point against the Lancers
Kevin Guczek
FARMVILLE, Va. ó Junior Gabriel Cucalon won his sixth straight singles match for the North Carolina Central University menís tennis team in a 6-1 non-conference loss at Longwood University Friday.

Cucalon needed three sets to garner his victory from the No. 2 position in the Eagles lineup. He eventually dispatched freshman Raisei Sakai by a score of 6-4, 2-6, 6-3. Cucalon is now tied with sophomore teammate Theofanis Kontopoulos with nine singles wins.

Kontopoulos had a six-match win streak of his own come to an end by the racket of reigning Big South Freshman of the Year sophomore Amadeo Blasco, who improved to 14-5 with the 6-2, 6-0 win atop the lineup.

Junior No. 3 Sebastian Bromley also competed in a three-set battle for NCCU, but freshman Valentin Popescu rallied for the 4-6, 6-4, 6-1 triumph.

The Lancers won the bottom three singles matches in straight sets to complete the victory. Longwood improved to 10-8 on the season.

The Eagles earned a No. 3 doubles win by the sophomore duo of Pablo Juez Torres and Brooks Campbell. The prevailed 6-4 for their sixth win together.

However, Longwood won the top bout 6-4 and then Blasco and Sakai edged Cucalon and Bromley, 7-5, to secure the first team point.


NCCU (2-13) next hosts North Carolina A&T State University in a pivotal Mid-Eastern Athletic Conference (MEAC) Southern Division showdown on Saturday at 10 a.m. The Eagles were scheduled to host Hampton University on Saturday, but that match has been rescheduled for Sunday, April 22 due to inclement weather.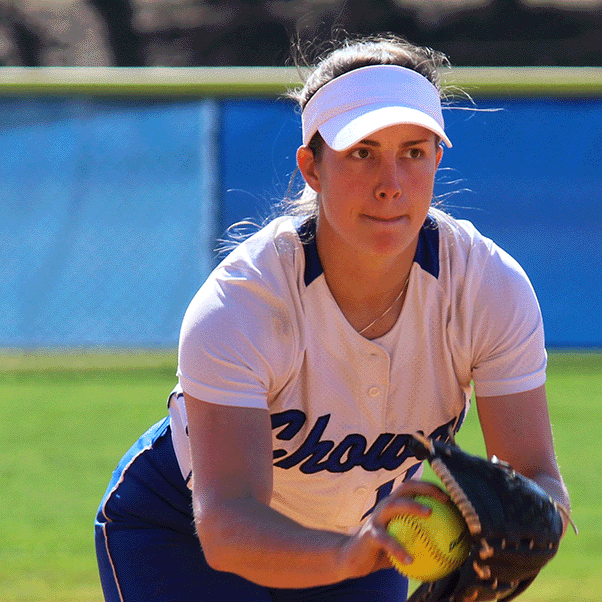 Griffis Throws No-Hitter In Sweep Of Vikings

Evann Carpenter

ELIZABETH CITY, N.C. Ė Shelby Griffis threw the program's fifth no-hitter as the Chowan Softball team rolled to a 2-0 start in the CIAA Northern Division with a sweep of cross-town rival Elizabeth City State on Friday afternoon.

THE BASICS

FINAL | Chowan 10, Elizabeth City 0 (5) | Chowan 9, Elizabeth City 0 (5)

RECORDS | Chowan 19-12 (8-0, 2-0), Elizabeth City 1-23 (1-9, 0-4)

LOCATION | Elizabeth City, N.C.

INSIDE THE BOXSCORES

Shelby Griffis (8-6) only allowed a hit by pitch in the night cap as Griffis struck out six on her way to her first career no-hitter and fifth in program history.

Miranda Glover went 2-3 with three RBI in the first game. Donya Salman went 2-2 at the plate in the nightcap. Glover picked up two RBI in the second game.

Shannon Buchanan (9-6) picked up the win tossing 5.0 scoreless innings and scattered four hits and struck out eight.

Chowan drew eight walks in the opening contest and 11 in the second game.

HOW IT HAPPENED

Game One: Chowan 10, Elizabeth City 0 (Five innings)

Chowan plated their first run before the first hit was recorded as the first three batters: Kris Neal, Mackenzie Taggart, and Lindsey Stigler reached on a walk. Brittany Parson brought home the first run after being hit by a pitch. Donya Salman picked up the first hit of the contest with a base knock up the middle to plate a run. Kelsey Sonntag drew a bases loaded walk to extend lead to 3-0.

Miranda Glover continued the inning with a base hit to left field before Shannon Buchanan reached on a hit by pitch to push the lead to 5-0. A fielder's choice pushed across two runs on an error to lead 7-0.

Lindsey Stigler opened the second inning with a triple down the left field line before coming around to score after back-to-back walks and a wild pitch. Brittany Parson and Donya Salman would score on Miranda Glover's single to right for the 10-0 advantage.

Mackenzie Taggart picked up a single and Lindsey Stigler drew a walk in the fourth inning but left the base early.

Game Two: Chowan 9, Elizabeth City 0 (Five Innings)

Lindsey Stigler put the Hawks on the board first with a sacrifice fly following a Kris Neal and Mackenzie Taggartwalk to start the contest. Donya Salman doubled up the middle to give the Hawks a 2-0 lead early. Salman would swipe third and score on a passed ball as Kelsey Sonntag and Miranda Glover drew walks to prolong the inning.

The Hawks would lead 4-0 after the first inning of play.

Brittany Parson, Donya Salman, and Kelsey Sonntag drew walks to open the third inning before Miranda Gloverbrought home a pair with a single to left field. Sonntag came home to score on a wild pitch to push the lead to 7-0. Carleigh Wildeboer singled home a pair to give the Hawks a 9-0 lead.

Lindsey Stigler started the fourth with a single through the left side of the infield. EmaRae Flores drew a walk in the inning. Donya Salman grabbed a base hit to left. The Hawks showed sportsmanship stepping off the bags early for the out.

UP NEXT

Chowan travels to Virginia State for a CIAA Northern Division clash between the top two teams in the division on Saturday, April 14.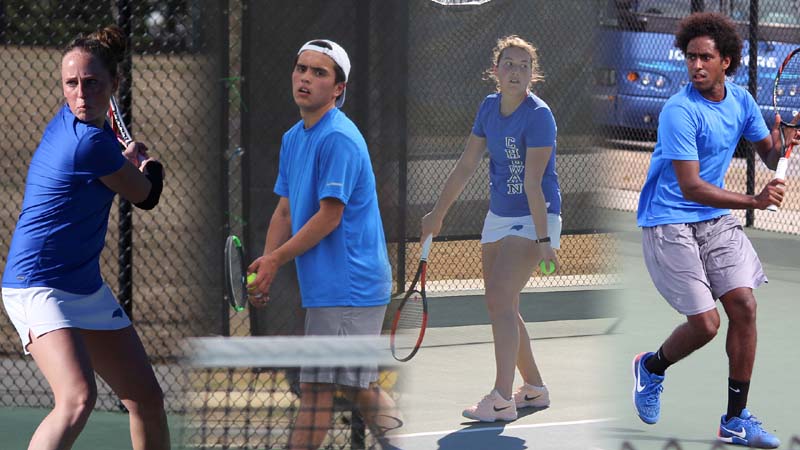 Chowan Duos Continues to Shine in ITA Rankings
L. Charlotte Dinkins

MURFREESBORO, N.C.- Chowan's Polina Novachuk/ Cynthia Carrier and Ghassan Alansi/ Adi Kaliakperov moved in the recent Oracle ITA Division II National Doubles Rankings after picking up their Conference Carolinas contest last week.

Polina Novachuk and Cynthia Carrier jumped to 33rd in the polls after dropping to 36th last week. The Hawks are 13-2 this season and winners of nine straight after defeating Limestone 8-5.

Novachuk and Carrier continue to be the only Conference Carolinas duo to be ranked in the top-50.

Ghassan Alansi and Adi Kaliakperov dropped four spots to 46th. The doubles duo post a 10-5 overall record and 3-2 in the league.

Alansi and Kaliakperov are joined Belmont Abbey's duo (#30) on the men's side.
NCCU Captures Four Victories at High Point T&F Meet Kyle Serba
| | |
| --- | --- |
| | |
HIGH POINT, N.C. Ė North Carolina Central University captured four event victories and 11 more top-5 finishes during the 10th annual VertKlasse Meeting outdoor track & field meet, hosted by High Point University on Friday.

NCCU freshman Gordon Lewis won the menís 400-meter dash with a time of 47.81 seconds, narrowly edging fellow freshman Jazire Notice, who placed second with a time of 47.89.

Lewis also anchored the victorious menís 4x100m relay squad with NCCU teammates Isaac Roberts, Deontae Williams and Blake Hartsfield, posting the winning time of 40.84.

NCCU sophomore Omega Smalls cleared the highest mark in the menís high jump of 2.00 meters to win the event, while freshman Marvin Jones placed second (1.91m).

The fourth victory by NCCU came in the womenís 4x100m relay squad as Akia Morris, Bethany White, Tyresha Alexander and Erin Johnson tallied a time of 46.35 seconds.

Johnson and Morris achieved runner-up performances in their individual races. Morris finished second in the womenís 200m dash with a time of 24.52, while Johnson placed second in the womenís 100m dash in 11.89 seconds. NCCU junior Miaysha Bryant placed fifth in the 100m dash (12.10).

Freshman Bhrandi Crenshaw earned two top-5 efforts with a runner-up finish in the womenís high jump, a season-best 1.66 meters, and a fourth-place performance in the long jump (5.40m).

Another freshman, Kenydi McWilliams placed second in the womenís 100m hurdles with a time of 14.42 seconds.

Senior Isaac Roberts collected two top-5 performances in the sprints, placing third in the menís 100m dash (10.64) and fifth in the 200m dash (21.88).

Junior Kiana Seabrook rounds out the top-5 finishes for NCCU by placing fifth in the womenís 400m dash (57.34).

Up next, NCCU will compete at North Carolina A&T State University in the Aggie Invitational on April 13-14.

For more information about NCCU track & field, visit the new NCCUEaglePride.com.

NCCU Top-5 Performances at HPU VertKlasse Meeting (April 6, 2018)


Women's 100m Dash

Erin Johnson (2nd) 11.89

Miaysha Bryant (5th) 12.10


Women's 200m Dash

Akia Morris (2nd) 24.52

Womenís 400m Dash

Kiana Seabrook (5th) 57.34


Womenís 100m Hurdles

Kenydi McWilliams (2nd) 14.42


Women's High Jump

Bhrandi Crenshaw (2nd) 1.66m


Women's Long Jump

Bhrandi Crenshaw (4th) 5.40m


Womenís 4x100m Relay

NCCU (1st) 46.35 (Akia Morris, Bethany White, Tyresha Alexander, Erin Johnson)


Menís 100m Dash

Isaac Roberts (3rd) 10.64


Menís 200m Dash

Isaac Roberts (5th) 21.88



Men's 400m Dash

Gordon Lewis (1st) 47.81

Jazire Notice (2nd) 47.89



Menís High Jump

Omega Smalls (1st) 2.00m

Marvin Jones (2nd) 1.91m



Menís 4x100m Relay

NCCU (1st) 40.84 (Isaac Roberts, Deontae Williams, Blake Hartsfield, Gordon Lewis)
Rams Open Johnson C. Smith Invitational with Strong Performances

WSSU notches top five finishes on opening day


Trevin Q. Goodwin
CHARLOTTE, NC - The Winston-Salem State University Rams womenís track & field team outran the weather with some strong performances on the opening day of the Johnson C. Smith Invitational, Friday. Originally scheduled to be a one-day meet, Saturday, teams got an early start with some events taking place, Friday.

The Rams set the tone with some great performances on the track. WSSU freshman AzariíEl Wilson got things going when she placed fourth in the womenís 100m hurdles with a 15.37. Freshman Qjuanda Rowe placed sixth in the womenís 400m hurdles with a 1:08.69.

The Rams also had some great efforts in field events with sophomore Mikel Frankin continuing her strong effort with a second place finish at 1.57m. Senior Halvandria McNeill placed fifth in the womenís javelin throw with a 33.43m throw.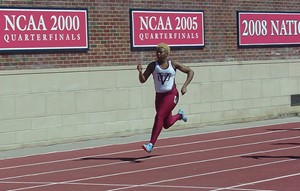 Hawks earn five postseason qualifications at Colonial Relays

The Shore makes the most of weather shortened meet

Matt Mccann
WILLIAMSBURG, Virginia ó Although inclement weather cut their stay in Williamsburg short, the Maryland Eastern Shore track & field team still managed to bring home plenty of accolades from the Colonial Relays.
Sophomore Summer Fields (Baltimore, Maryland) becomes the fifth Hawk to punch their ticket to the IC4A/ECAC Championships. Fields qualified with a time of 24.65 seconds in the 200 meter dash.
Four Hawks earned a spot at the MEAC Championships in Greensboro next month. Senior Lenneisha Gilbert (Miami, Florida) ran the 400 meter dash in 57.79 seconds, and senior Stanley Meli (Eldoret, Kenya) ran a 15:48.28 in the 5K to clinch qualifications. In the 800 meter dash, two Hawks earned the right to head to Greensboro. Senior Donovan Mundy (Jacksonville, Florida) ran the 800 in 1:54.11 and sophomore Neus Quinonero (Valencia, Spain) earned a time of 2:13.46.
The Shore has now achieved 14 MEAC qualifiers for the season.
In addition to all the postseason berths, senior Oussama Chouati (Manresa, Spain) won the 3000 steeplechase with a time of 9:06.75. That mark is the fourth victory for the Hawks during the outdoor campaign.
Two others earned top ten finishes, with senior Luan Gabriel (Roseau, Dominica) earning a pair with her performances in the 100 and 200 dashes. Freshman Chisom Onukwugha (New Carrolton, Maryland) finished seventh in the 110 hurdles. All three top ten finishers have already qualified for the postseason in at least one event.
Maryland Eastern Shore will now focus their attention to the Towson Invitational next Saturday (Apr. 14).