2018 CIAA Softball Weekly Report #1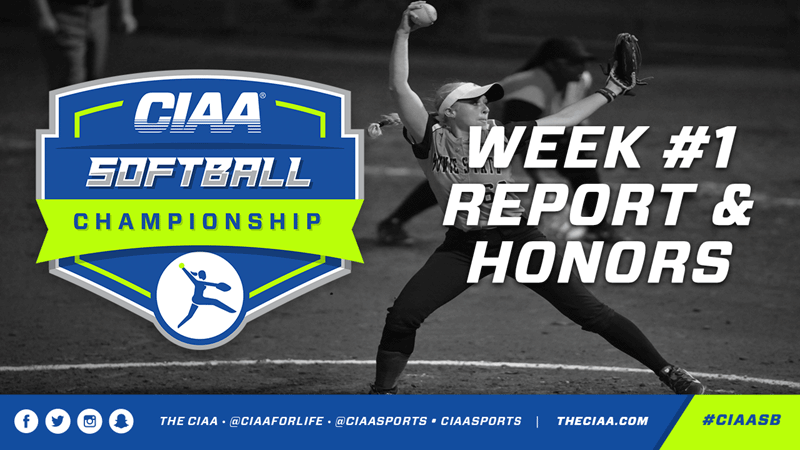 Shelby Griffis, Chowan University
(So, P - Green Cover Springs, FL, 10) Bounced back with a strong outing in the circle tossing a complete game allowing two runs (one earned) over five hits.
OFFENSIVE PLAYER OF THE WEEK
Evelyn Arguelles, Johnson C. Smith University
(Jr, C/3B - Deltona, FL, 11) Arguelles led JCSU with a .429 average in JCSU's first two games of the season. She had three hits against West Liberty, two of those being doubles. She also returned a .714 slugging percentage and .429 on base percentage.
DEFENSIVE PLAYER OF THE WEEK Haley Cooper, Chowan University
(Jr, C - Perquimans County, NC, 12)
Converted on all 12 chances at 2B with a 1.000 fielding percentage. Tallied eight assists and four put outs.

CIAA Women's Basketball Players and Coach of the Week #13
Player of the Week
Alexis Johnson, Virginia Union University
(Sr, F - Hamilton, NJ, 23)

Johnson averaged 18.5 points per game this past week. She scored 13 points against Virginia State and then scored 24 points against Bowie State. She is also ninth in the nation in blocks

La'Zarea Bowens, Johnson C. Smith University
(Fr, F - Knightdale, NC, 31)

Bowens averaged 11.3 ppg over the past week. She had 19 points at ECSU, 10 points vs. Fayetteville State and five against St. Augustine's. On the week, she had 12 rebounds, including six against FSU. She also managed three blocks and an assist.

Newcomer of the Week
Michelle Fitzgerald, Lincoln (PA) University
(Sr, F - Baltimore, Md., 11)
Averaged 19 points and 14 rebounds leading the Lions to a perfect 2-0 week...Fitzgerald recorded back-to-back double-doubles in the two wins...In LU's win over Bowie, she grabbed a career high 17 rebounds to go along with 13 points. In the win over ECSU Fitzgerald scored a career high 25 points and had 11 rebounds.
Coach Gilbert guided the Lady Panthers to two wins this past week, including dealing Virginia State University it's first home loss of the season. VUU is now 22-2.
She also became just the second player in program history to make 10 or more free throws in a game without a miss...for the week shot 92.9% from the free throw line.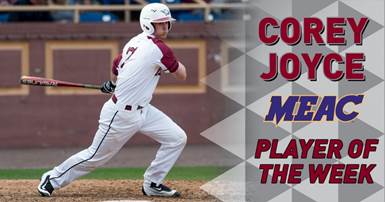 NCCU's Joyce Wins MEAC Player of the Week to Start Season
Jonathan Duren

NORFOLK, Va. – North Carolina Central University sophomore Corey Joyce (Lexington, N.C.) is the first to be named MEAC Player of the Week in the 2018 season after a strong opening weekend against Wagner, the league office announced on Monday, Feb. 19.

Joyce was impressive at the plate as he slugged 1.000 with two home runs and three doubles to drive in seven RBI. He was 6-for-15 over the weekend for a .400 batting average, and also stole two bases. Manning second base in all three games he made six putouts with six assists, and initiated a game-ending double play to clinch the series in game three against Wagner.

This is the first weekly honor for the Eagles in the 2018 season. For Joyce, this is his third career weekly honor from the league, but first time being named Player of the Week after winning Rookie of the Week twice in 2017.

NCCU is back in action on Tuesday, Feb. 20 against Duke at the Durham Bulls Athletic Park at 4:00 p.m.
Rams Break Out for a 7-1 Win Over Post Eagles

WSSU scores seven runs on eight hits for key win

WINSTON-SALEM, NC – The Winston-Salem State Rams (3-4) had an offensive breakout when the team took a 7-1 win over the Post Eagles (0-2), Sunday afternoon. The Rams needed just eight hits to score a season-high seven runs in the game.

The Rams turned on an offensive faucet with runs scored in five of the seven innings played in the game. Senior outfielder Randy Norris broke out for a great day with a two-for-four performance at the plate with a home run and two runs batted in (RBI in the game. Freshman third base Jaxon Snider went two-for-three with three RBI in the game as well.

The Rams opened the game with a great effort with runs scored in three of the first four innings of the game. Norris got things started when he hit a leadoff solo home run on the second pitch of the game. The run was followed in the third inning when junior designated hitter Rashad Stewart scored on a fielding error by the Eagles to leave the Rams on top, 2-0. After allowing a fourth inning run to the Eagles, the Rams scored three fourth inning runs. An Eagles throwing error allowed Randall Ortiz to score a run and get things started for the Rams. The effort was followed by an RBI single by Norris to score Snider and put the Rams ahead, 5-1. Snider would strike once again when he hit a two-RBI single in the fifth inning to score Ortiz and freshman short Wellington Guzman and sealed the 7-1 win.

WSSU redshirt-freshman pitcher Jalen Scott (1-0) got the pitching win with a dominating performance that saw hit hold the Eagles to one run (one earned) and just four hits. He also recorded nine strikeouts to claim the win. Sophomore Mark Levesque came in for an inning for the Rams and held the Eagles scoreless.

With the win, the Rams improve to 3-4 on the season. The Rams will return to action tomorrow when the team host the Eagles in a single nine-inning game tomorrow afternoon at BB&T Ballpark. For more information on Rams baseball, log on to www.WSSURams.com.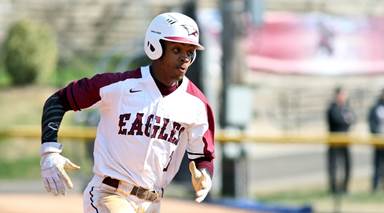 NCCU Eagles Win Opening Series over Wagner with Doubleheader Sweep

February 18, 2018

DURHAM, N.C. – North Carolina Central University picked up an opening series win after a doubleheader sweep over Wagner on Sunday, Feb. 18 with 12-3 and 10-4 victories at the Durham Athletic Park.

NCCU (2-1) collected 21 hits and six extra-base hits including a home run over the afternoon.

GAME ONE: Wagner (1-2) scored first on a fielder's choice in the first inning, but NCCU didn't take long to put itself into the lead. The Eagles scored early and often in the first game of the doubleheader as it put 11 runs on the board in between the second and fourth inning.

Corey Joyce (Lexington, N.C.) followed his two-home run game from Friday with three hits in game one with two doubles and an RBI. Mitchell McCrary (Mills Creek, N.C.) cleared the outfield fence for the first time this year with a two-run laser in the bottom of the third when the Eagles sent eight to the plate and scored four.

NCCU scored four in the following inning as the Eagles brought nine men to the dish in the fourth. That inning was highlighted by a two-RBI single from Zach Michalski (Belews Creek, N.C.) as he picked up two hits and three RBI in the contest. Dominic Cuevas (Gurnee, Ill.) touched home three times and got on base four times with a single and three walks.

Freddy Sabido (Staten Island, N.Y.) was responsible for two of the Seahawks' three runs, as he drove in Nick Mascellli (Clifton, N.J.) twice. Will Johnson (Toms River, N.J.) brought in the third run for Wagner in the seventh inning.

Jonathan Figueroa (Chicago, Ill.) turned in five complete innings with just one earned run for his first win of the year.

GAME TWO: NCCU was patient at the plate to start the second game, working three walks to push across a pair of runs in the first inning to lead 2-0. Wagner responded with a run on an error in the top of the second, but the Eagles struck right back with an RBI single from Carter Williams (Brown Summit, N.C.) to move the Eagles in front 3-1.

The Eagles once again put a crooked number on the scoreboard in the fourth inning as NCCU sent eight men up to bat, and drove in three on a two-RBI double from Williams and an RBI single from Evan Holland (Erial, N.J.) to gain a 6-1 advantage.


After that, Wagner started mounting a charge back into the game, starting with two runs in the fifth on a single from Mascelli, and then cut the lead to just two after an RBI double from Sean Mazzio (West Chester, Pa.) in the top of the seventh to move the score to 6-4.

NCCU was able to put the comeback bid to rest in the bottom of the eighth as the Eagles sent all nine men up to hit to pick up four runs from Andrew Valichka (Pedricktown, N.J.), Holland and Joyce for the final tallies in a 10-4 finish.

The Eagles were able to finish off the doubleheader sweep in style with a double play from the combination of Joyce, Cuevas and Drake Murray (Roswell, Ga.).

NCCU will play its first road game of the year on Tuesday, Feb. 20 as the Eagles visit Duke at the Durham Bulls Athletic Park at 4:00 p.m.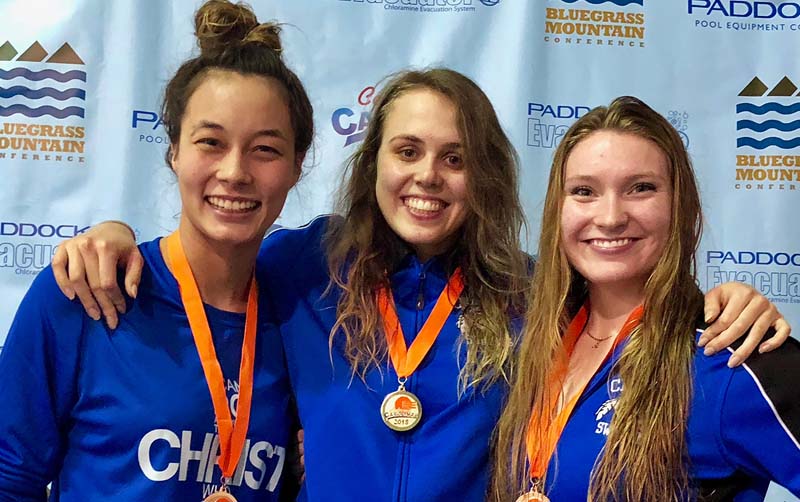 Chmielewska Swims To Individual Title, Hawks in Second
Women's Swimming 2/16/2018 8:56:00 PM
Evann Carpenter
CHARLOTTE, N.C. – The Chowan Women's Swimming team kept their second place status heading into the final day of the Conference Carolinas Women's Swimming Championships on Friday.

THE BASICS

FINAL Day Two | Chowan 2nd

LOCATION | Charlotte, N.C. (Mecklenburg Aquatic Center)

THE RESULTS

1. Barton 469

2. Chowan 366

3. Converse 354

4. Limestone 341

5. King 192

HOW IT HAPPENED

Julia Chmielewska gave the Hawks their first individual title in the 100 Back with a time of 57.66. Ashley Hernandez finished fifth with a season best time of 1:02.37.

Chowan took a third place finish in the 200 Free Relay with a program best 1:38.38. Julia Chmielewska, Grace Arrendondo, SheAyre Bowles, and Kjahna O led the Hawks to a podium finish.

Jasmine Gibson grabbed a podium finish in the 100 Fly with a time of 1:01.30 for a third place finish. Keitra Lloydand SheAyre Bowles finished sixth and seventh respectively.

Kjahna O grabbed a third place finish in the 200 Free after improving her own school record with a time of 1:56.42. Grace Arrendondo improved her personal best with a time of 2:00.02 for a sixth place finish.

AnnMarie Spiker improved her school record time in the 100 Breast with a third place finish time of 1:07.90. Spiker was edged out for second place by 0.10.

Sarah Hull and MacKenzie Lucy would finish second and third respectively in the consolation finals of the 100 Breaststroke.
Rams Rally for 3-2 Extra-Inning Walk Off Win Over Post

Stewart hits RBI walk off triple for WSSU win

WINSTON-SALEM, NC – The Winston-Salem State Rams (2-4) rallied late to claim a 3-2 extra-inning run over the Post Eagles (0-1), Sunday afternoon. With the game tied at the end of seven innings, WSSU got a walk-off triple from junior designated hitter Rashad Stewart hit a walk-off triple to secure the Rams' second win of the season.

The Rams took the win behind a great overall effort in the game. As a team, the Rams scored three runs on six hits in the game. Stewart led the way for the Rams with a two-for-four batting effort with two runs batted in (RBI) in the game. Junior second base Nick Williams led added a two-for-four effort with a run scored as well.

The game was an exciting one from beginning to end. After allowing a Post second inning run, the Rams answered in the bottom of the inning when Stewart hit his first RBI single to score junior catcher Cole Parks and tied the game, 1-1. The Rams allowed another Post run in the fifth inning before tying the game once again in the bottom of the sixth inning when senior outfielder Brandon Ford scored on a Post wild pitch and tied the game 2-2. From there, the game went into extra innings and set the stage for Stewart's dramatic ninth-inning RBI triple to score Williams.

WSSU junior pitcher Josh Larson (1-0) took the pitching win with 1.1 innings on the mound and no runs and no hits allowed with a strikeout. Senior Seth Reeves did the bulk of the work with the start and going 7.2 innings. He allowed two runs (two earned) on seven hits and recorded seven strikeouts in the game.

With the win, the Rams improve to 2-4. The two teams would go on to face off in game two of the double-hitter later in the day.

For more information on Rams baseball, contact the WSSU Office of Athletic Media Relations at (336) 750-2143 or log on to www.WSSURams.com.
Kontopoulos Wins Singles Match in NCCU's Duel at ECU

February 18, 2018

PICTURED: Archived photo of NCCU sophomore Theofanis Kontopoulos, who picked up a singles win at ECU on Sunday (by Kevin Dorsey)

GREENVILLE, N.C. — Sophomore Theofanis Kontopoulos picked up the lone point for the visiting North Carolina Central University men's tennis team in a 6-1 loss to East Carolina University at the River Birch Tennis Center Sunday afternoon.

Kontopoulos moved into the top position in the Eagles lineup for the first time in his collegiate career and he was successful with a 6-4, 6-4 triumph over junior Vlad Anghel. Kontopoulos (1-3) is moves back over .500 in dual matches over his first two seasons at NCCU with a 12-11 record.

The Pirates won the other four singles matches contested in straight sets to secure the team victory. Junior Gabriel Cucalon gave NCCU its next best chance at a point, losing a narrow 7-6 (4), 6-4 battle at No. 2 to junior Will Bissett.

Sophomore No. 3 Austin Allen (3-0) topped junior Sebastian Bromley (6-3, 6-0) to remain undefeated in dual matches along with Bissett (4-0). In the final two matches, Senior Freddie McGeehan knocked off sophomore Pablo Juez Torres and freshman Wisse Jonker defeated sophomore Brooks Campbell by matching 6-2, 6-2 scores.

The Eagles forfeited No. 6 singles and No. 3 doubles with only five active players.

ECU (8-1) – winners of four straight matches – got on the board first by winning doubles. Jonker and sophomore Javier Renones secured the point with a 6-4 triumph on the second court over Kontopoulos and Juez Torres. In another tight battle, junior Ronny Georgi and senior Kasey Countee outlasted Cucalon and Bromley, 7-5.

NCCU next hosts Coppin State University on Monday at Noon.
East Carolina 6, N.C. Central 1
Feb 18, 2018 at Greenville, N.C. (River Birch Tennis Center)

Singles competition


1. KONTOPOULOS,Theo (NCCUMT) def. ANGHEL,Vlad (ECU) 6-4, 6-4

2. BISSETT,Will (ECU) def. CUCALON,Gabriel (NCCUMT) 7-6 (7-4), 6-4

3. ALLEN,Austin (ECU) def. BROMLEY,Sebastian (NCCUMT) 6-3, 6-0

4. MCGEEHAN,Freddie (ECU) def. JUEZ TORRES,Pablo (NCCUMT) 6-2, 6-2

5. JONKER,Wisse (ECU) def. CAMPBELL,Brooks (NCCUMT) 6-2, 6-2

6. RENONES,Javier (ECU) def. No player (NCCUMT), by forfeit

Doubles competition

1. GEORGI,Ronny/COUNTEE,Kasey (ECU) def. CUCALON,Gabriel/BROMLEY,Sebastian (NCCUMT) 7-5

2. RENONES,Javier/JONKER,Wisse (ECU) def. KONTOPOULOS,Theo/JUEZ TORRES,Pablo (NCCUMT) 6-4

3. BISSETT,Will/ALLEN,Austin (ECU) def. No player/No player (NCCUMT), by forfeit

Match Notes

N.C. Central 0-4

East Carolina 8-1

Order of finish: Doubles (2,1); Singles (5,3,1,4,2)
FSU's Worthy & VUU's Durfee Earn CIAA Bowling Honors Hasty Morgan
Charlotte, NC – Fayetteville State University's Brittany Worthy has been named the Central Intercollegiate Athletic Conference (CIAA) Bowler of the Month while Amaree Durfee of Virginia Union University earns Rookie Bowler of the Month for the third time this season.

Worthy was the top bowling individual at the February bowling event, knocking down a total of 1,820 pins. The sophomore played a total of ten games to mark a personal event-high 231 pins in her seventh game, for a final average of 182.00 pins.

Durfee finished ninth overall and was the Panthers' 2nd leading individual bowler during the event with a total pin count of 1,622. Playing a total of ten games, the rookie bowled an average of 162.20 pins per contest with her highest pin count occurring during her 9th game of the event (188 pins).

CIAA bowling teams will meet for CIAA Event III on March 9-11, 2018 in Rocky Mount, North Carolina.
Fayetteville State Bowling Reaches The 1,000-Win Plateau


Adrian F. Ferguson Feb. 19, 2018

Baltimore, Md. – It was once said that Fayetteville State's Bobby Henderson is a bowling institution. This statement was made in 2012 when the Broncos won its 600th game.

One would wonder, what will it take for the son of a professional bowler to become a legend in his own rights.

Fast-forward six years and recheck Bobby Henderson's resume.

Fayetteville State University finished the 2016-17 season with a 66-11 overall record and its 16th consecutive conference divisional title. With 960 wins in 16 years, FSU has won three CIAA Championships with two NCAA Elite Eight Tournament appearances. Outside of the three titles, the Broncos have finished within the top-three of the conference tournament seven (7) times. There is also a long list of Coach of the Year accolades and CIAA Players of the Year and All-Conference honorees.

This past weekend, Fayetteville State traveled to Baltimore, Md. to participate in the fourth annual James Brown Invitational Bowling Tournament, hosted by Morgan State University.

The Broncos needed three wins in the tournament to reach the 1,000-Win plateau. FSU went winless (0-5) for the first day. The Broncos opened the second day with back-to-back wins over Norfolk State University and Belmont Abbey College.

Brittany Worthy (Durham, NC) was named to the 1st Team All-Tournament roster with the highest score of 252 and the second highest overall average of 210.80. She had three games of 225 or better.

One win away, Fayetteville State entered Sunday's Championship Bracket ranked 12th with a 170.2 pin average and a 2-7 tournament record. The Broncos lost the first round 817-697 to No. 11 Mount Aloysius College. FSU failed to reach its mark in the second round with a 781-689 loss to No. 13 Belmont Abbey.

In the final round of the best 4-out-of-7 tournament, Fayetteville State captured the first two frames against Coppin State University 186-152 and 165-161. The Eagles won the third frame 176-174. The Broncos took a two-frame lead (3-1) with a 199-146 fourth frame.

Although there are two more tournaments and a possible appearance in the NCAA Tournament left on the schedule, Bobby Henderson will not have the pressure of winning his 1,000-victory looming over his head.

For Fayetteville won the last match of the tournament with a 169-125 frame over Coppin State and an overall 893-760 score.

The "Bowling Institution" now has a career record of 1,000 wins and 265 losses. The Broncos are primed to win its 17th conference divisional title with a 23-0 record.

After the final regular-season conference tournament during the weekend of March 9th thru 11th, Fayetteville State will shoot for its fourth title at the CIAA Championships in Chesapeake, Va. from March 22nd – 24th.
This Week in Bowie State Athletics
For complete team schedules, visit www.bsubulldogs.com

All Events Subject to Change


Wednesday, February 21 Basketball hosts Virginia State University
(Leonidas S. James Complex – A.C. Jordan Arena)
Women – 5:30 p.m. / Men – 7:30 p.m.
WOMEN'S LIVE STATS MEN'S LIVE STATS TICKETS
Theme: Gold Rush Night

Saturday, February 24 Basketball hosts Elizabeth City State University
(Leonidas S. James Complex – A.C. Jordan Arena)
Women – 2 p.m. / Men – 4 p.m.
WOMEN'S LIVE STATS MEN'S LIVE STATS TICKETS
Theme: Senior Day

Sunday, February 25 Softball at Winston-Salem State University
(Winston-Salem, N.C.)
11 a.m. and 1 p.m.