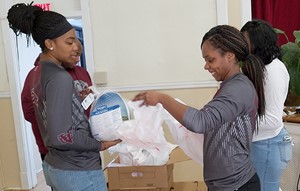 Student-Athletes & Coaches Distribute Food to Families in Need

11/22/2017 | General Jim Juno

Virginia Union University student-athletes and coaches pitched in at Trinity Baptist Church in Richmond, Va., on Tuesday, November 21, to distribute food to families in need of Thanksgiving dinners.

The student-athletes from women's basketball, men's basketball, cheerleading and football along with assistant football coaches distributed 165 turkeys and fixings to families who had lined up outside the church. In all, the student-athletes spent eight hours distributing food.

"There are no words to express our gratitude to these student-athletes," said Qiana Brandon, President of the Sarah C. Turner Memorial Missionary Society. "They have been invaluable."

"I cannot thank you enough for the outpouring of support demonstrated by the VUU Athletic Department during our Thanksgiving Outreach Project," said Sarah C. Turner. "The Trinity Baptist Church family was truly blessed by their strength and dedication with serving others in need in our community."

"Some people are, unfortunately, in need this season, and this is a chance for us to give back," said Trinity Gaskins of the VUU cheerleaders, the Rah Rahs. "Union does a good job of giving their student-athletes community service opportunities, so this is our chance to do something for the community."

In all, VUU student-athletes distributed a total of 165 dinners, the most ever provided in the Thanksgiving Outreach Program.
Hawks Women's Basketball Downs Broncos On Road


FAYETTEVILLE, N.C. – The up-tempo by the Chowan Women's Basketball team proved to be rewarding as the Fayetteville State Broncos had no answer as the Hawks cruised to a 73-55 victory in a non-conference contest on Saturday evening.

THE BASICS

FINAL | Chowan 73, Fayetteville State 55

RECORDS | Chowan 6-1, Fayetteville State 3-3

LOCATION | Fayetteville, N.C. (Capel Arena)

INSIDE THE BOXSCORE

Dhyamond Crenshaw led the Hawks with 18 points. Danielle Weldon chipped in with 15 points and nine boards.

Chantel Roberts tallied 13 points and eight boards. Joanne Williams hauled in 10 boards, while Mariah Cokernotched nine points and six assists.

HOW IT HAPPENED

First Quarter:

Both teams traded baskets early as Fayetteville State tallied a 6-4 lead early. Jada Lee knocked down a triple to give the Hawks the 7-6 lead with 5:23 remaining in the opening stanza.

Jada Lee's triple sparked a 12-0 run to put the Hawks up 18-6. Danielle Weldon continued the run with a layup. Chantel Roberts and Mariah Coker added to the rally with buckets. Weldon added an old-fashioned three-point play before the Broncos found a bucket to end the run.

Chantel Roberts knocked down a three for the final basket for the Hawks to lead 19-12 after 10 minutes of play.

Second Quarter:

FSU opened the quarter with three straight points before Jada Lee steered the Hawks forward with a layup.

Chantel Roberts pushed the Hawks lead to 28-19 with back-to-back buckets. The Broncos went on a 7-2 run to cut the deficit to five, 30-25, with 2:30 remaining in the half to force a Chowan timeout.

Joanne Williams notched the final four points of the half as the Hawks led 34-25 at the break.

Third Quarter:

Chowan opened the quarter on a run before the media timeout as the Hawks saw their advantage swell to 20, 48-28. Dhyamond Crenshaw started off the half with three straight buckets.

Following a basket by the Broncos, Mariah Coker knocked down a trey and a floater in the lane to as the Hawks continued their early run to start the quarter. Danielle Weldon continued the run with a strong move down low finishing through the contact to finish off the three-point play.

Out of the timeout, Dhyamond Crenshaw continued the run with a fastbreak layup.

The Broncos ended the Hawks' 18-5 run at the 2:43 mark with a jumper before Dhyamond Crenshaw found Danielle Weldon on a fastbreak to keep the lead at 24, 54-30.

Dhyamond Crenshaw notched four points followed by buckets by Danielle Weldon and Kaylah Henderson to push the Hawks to a 61-32 lead heading to the fourth quarter.

Fourth Quarter:

The Broncos started to chip away at their deficit opening the quarter with a 13-4 trimming the Hawks' lead to 65-45. The Broncos' run was aided at the free throw line as the Hawks were tagged with fouls early.

Following a timeout, Fayetteville State continued their run with a 5-0 run to continue to trim the Hawks' lead down to 65-50 before Dhyamond Crenshaw ended the scoring drought with a jumper.

Chowan regrouped to push the advantage back to 20, 70-50, as Joanne Williams chipped in three points.

FSU tried to close the gap late in the contest from behind the arc as the Hawks' defense did not allow the Broncos to gain momentum.

The Hawks and Broncos traded free throws in the final minute of the contest as Chowan cruised to 73-55 victory.

UP NEXT

Chowan returns home after a four game stretch on November 28 as the Hawks host Francis Marion. Tip-off is at 5:30pm.

Martin Scores 18, NCCU Falls to Rams

PICTURED: Archived photo of NCCU junior Rodneysha Martin, who scored a game-high 18 points at Colorado State on Saturday (by Red Rocket Photography)


FORT COLLINS, Colo. — Junior guard Rodneysha Martin canned a game-high 18 points for visiting North Carolina Central University in an 85-48 loss at Colorado State University Saturday afternoon in Moby Arena.

The Rams dominated the glass with a 53-34 rebounding advantage, including 18 offensive boards that led to commanding 22-0 surplus on second-chance points.

CSU improved to 3-2 overall and NCCU dropped to 1-3.

Martin swished a season-high five 3-pointers en route to her 18 points. Martin has led the Eagles in scoring each of NCCU's last three games and she has reached the 10-plus point plateau in all four contests.

A couple 3-pointers by Martin and freshman Kieche White helped NCCU match a pair of early treys by CSU junior Sofie Tryggedsson as the two teams were tied 8-8 after six minutes into play. However, the Rams used a 10-2 run to finish the first quarter to lead 18-10.

Freshman Lore Devos scored the first eight of her team-high 15 points early in the second quarter to extend the hosts advantage to 31-17. NCCU answered with Martin hitting her second and third 3-pointers of the half. A ensuing layup and free throw by junior Ezinne Mbamalu got NCCU within 10 at 34-24.

The Eagles were whistled for 14 first-half fouls compared to just five by the Rams. CSU took advantage and made 12 of its 17 tries from the charity stripe, including all four in the final minute to stretch its halftime advantage to 38-24.

Senior Veronika Mirkovic led the Rams into the locker room, scoring all nine of her points in the first half. Martin matched Mirkovic with nine points over the first 20 minutes.


Martin's fourth successful launch from behind the arc was NCCU's lone made field goal for the first eight minutes of the second half. The Rams used an 11-0 run after that three-ball and outscored the Eagles 18-7 in the third quarter to pull away to a 56-31 cushion.

NCCU junior Jayla Calhoun netted nine of her 12 points in the fourth quarter before fouling out, but CSU still outscored the maroon and gray by a 29-17 margin to win by 37 points.

Mbamalu and junior Dominique Adams each added four points. Freshman Alyssa Thompson pulled down a season-high eight rebounds.

Junior Callie Kaiser tallied 13 points and Tryggedsson finished with 10 as three Rams scored in double digits. A total of five CSU rebounders had at least seven boards, including a game-high nine from freshman Liah Davis.

The Rams shot 41.7-percent from the floor and held the Eagles to just 25.5%.


NCCU returns home to host Johnson & Wales (N.C.) University on Tuesday at 5:30 p.m. Admission is free.
Big Games From Finney-Smith/Bates Lead Hampton Over San Jose State
Jim Heath
STOCKTON, Ca. - Behind a 20-20 afternoon from Monnazjea Finney-Smith and the strength of an 18-4 run over the last six minutes of the third quarter, Hampton defeated San Jose State 81-73 for third place at the Tiger Turkey Tipoff at the University of Pacific on Saturday.

Finney-Smith scored a team-high 24 points and hauled in a career-best 21 rebounds to become the first player to score 20+ points and haul in 20+ rebounds in a game under ninth year head coach David Six. Her 21 rebounds is tied for fifth most in a game in school history and only two off the record of 23 by Brielle Ward against Virginia Tech on Jan. 1, 2014.

In a first half that saw seven ties, San Jose State held a 30-22 lead with 7:41 left in the second quarter on a Danae Marquez layup. Hampton went on a 20-9 run to lead 42-39 on a layup from Ashley Bates with 1:13 remaining. The Spartans scored the last three points on free throws to tie the game at 42 at half.

San Jose State opened the third quarter on a 10-2 run to lead 52-44 with 6:40 left on a 3-pointer from Andrea Kohlhaas. The Lady Pirates answered with the quarter closing 18-4 burst. Hampton scored the first 10 points as Finney-Smith drained a couple triples and Bates hit a couple layups. A pair of Bates free throws with 30 seconds left gave Hampton its own eight-point lead at 62-54.

A 3-pointer from Kohlhaas cut the deficit to 62-59 with 9:25 left but Hampton put the game away on the heels of a 14-4 run as a Finney-Smith layup with 4:44 left gave Hampton a 76-63 lead.

Joining Finney-Smith in the double-double club was Bates with 22 points and 10 rebounds. Allina Starr just missed a double-double with 19 points, seven rebounds, six assists and four steals.

Hampton now heads to Eugene, Oregon for a Tuesday night 9pm EST matchup with #10 Oregon.

For more information on Hampton University women's basketball, visit the official Pirates website at www.hamptonpirates.com.
Bowie State Bulldogs Cage Augusta Jaguars 91-80 in Non-Conference Men's Basketball Action

AUGUSTA, Ga. – Bowie State University picked up a much-needed win on Saturday afternoon at Augusta University, defeating the Jaguars 91-80, snapping a four-game slide. The victory sets the Bulldogs record at 2-4.

Senior Ahmaad Wilson (Baltimore, Md.) led five Bulldogs in double figure scoring with 22 points and sophomore Saiquan Jamison (Upper Marlboro, Md.) contributed a double-double of 20 points and a game-high 11 rebounds. Senior Omari George (Baltimore, Md.) tallied 15 points, redshirt sophomore David Belle (Hyattsville, Md.) chipped in 14 points and senior Dayshawn Wells (Baltimore, Md.) recorded 11 points in the win.

Augusta (2-3) was led by Tamyrik Fields and Tyvez Monroe with 17 points apiece while Aaron Byrd and Deane Williams accounted for 14 and 13 points respectively. Deane tied Monroe for team-high rebound honors with seven.


Augusta's Fields scored the first bucket of the game, but Bowie State's Belle answered with a dunk and Jamison followed with jumper to put the Bulldogs a lead they would not give up the rest of game.

Bowie State shot an even 50 percent from the field in the first 20 minutes of action, hitting 14-of-28 field goals and a slim 14-13 advantage on the glass and took a 39-35 lead into halftime.

The Augusta Jaguars shot even better from the field in the first half, making 13-of-23 field goals (56.5 percent).

The Jaguars pulled within four (68-64) but a triple by Wells gave the Bulldogs some breathing room at 71-64 with 7:19 left in the game. A huge 3-pointer by Wilson at the 2:49 mark was the dagger, putting Bowie State up 10 (80-70).

Bowie led by double-digits for most of the first 10 minutes into the second half. Augusta found life when Monroe and Byrd hit back-to-back three pointers to pull the Jags within six, but the Bulldogs had an answer at every turn.

Augusta and Bowie State each shot 50 percent from the floor, but the Bulldogs were 78.4 percent (29-of-37) from the free-throw line to AU's 71 percent (22-of-31). BSU made six three pointers to Augusta's four and the Bulldogs scored 15 points off 12 Augusta turnovers.

The Bulldogs will have very little time to rest before hitting the court on Sunday (11/26) afternoon at Newberry (S.C.) College for a 2 p.m. non-conference contest against the Wolves.
JCSU Men's Basketball Earns 81-68 Win Over West Georgia

Charlotte, N.C. (Nov. 25, 2017) – The Johnson C. Smith University men's basketball team blew open a tight game in the first half and cruised to an 81-68 win over visiting West Georgia on Saturday afternoon at Brayboy Gym.

IN the first half, neither team could distance itself from the other in the early going, as they traded the lead four times, with the Golden Bulls going on a 13-1 run over the latter stages of the first half, gaining the 37-25 lead with 58 seconds to go following a Roddric Ross (Forest City, N.C.) basket. During that span, senior guard Christian Kirchman (Roanoke, Va.) nailed back-to-back three pointers and senior post player Arthur Bennett (Powder Springs, Ga.) worked the inside to help JCSU gain the 39-27 lead at the half.

JCSU returned shot 44.1% in the first half on a 15-of-34 effort. JCSU also was 4-of-7 from long range with Kirchman going 3-of-3.

In the second half, JCSU extended their lead to as many as 21 points (59-38) with 13:33 remaining. West Georgia would battle back, closing the JCSU lead to just six points with 6:05 left after a Steven Ross tip-in.

JCSU then jumped ahead by 13 when Davis canned a three pointer with 4:29 to go. West Georgia would never get the Golden Bull lead to less than 11 points the rest of the way, with JCSU earning the 81-68 win.

Collectively, the Golden Bulls shot 47.7% (31-of-65) from the field and 6-of-14 from long range. JCSU also forced 16 turnovers, converting those turnovers into 13 points.

Kirchman led JCSU with 21 points while Davis finished with 20 points and eight assists. Arthur Bennet had a great outing, finishing with 15 points and a team-best six rebounds while Roddric Ross had 10 points and five boards. Aaron Adair (Winston-Salem, N.C.) also had a productive night, scoring six points while corralling six rebounds.

The win improves JCSU to 6-2 on the season while West Georgia falls to 3-2.

The Golden Bulls will next take on Anderson on Tuesday night, Nov. 28 at Brayboy Gym. Tipoff is scheduled for 7:30 p.m.

K.C. Culler

Sports Information Director

Josh Bryant nets 27 in Broncos 94-88 loss to Valdosta State

Valdosta, Ga. – Josh Bryant scored a season-high 27 points as Fayetteville State fell short 94-88 to Valdosta State in the Blazers' Thanksgiving tournament.

Bryant, a native of Fayetteville, made 11-of-19 field goals and pulled down six (6) rebounds in the Broncos loss. Javen McNeill (East End, NC) was one rebound shy of a double-double with 19 points and nine (9) rebounds. Denzell Hosch (Shelby, NC) followed with 14 points while Willie Gilmore (Fayetteville, NC) had 10.

The Broncos fell behind by 13 (27-14) midway through the first half but climbed back into the game to trail 35-33 at halftime. Hosch knocked down two three-pointers while Bryant added eight in the comeback run.

Home court advantage helped the Blazers roll to a 17-2 run in the early portion of the second half for a 52-35 lead with 14:32 left in the game. FSU closed the gap to seven (86-79) with 1:02 remaining. Free throws would help Valdosta State maintain a six-point victory.

Fayetteville State will play West Florida tomorrow at 2 pm and host Morris College on Thursday, November 30th.
NCCU MBB Meets Southeast Missouri State After 28 Years
STARTING FIVE:

1. This is NCCU's first meeting with SEMO since the 1989 Division-II National Championship, where the Eagles won 73-46.

2. NCCU was 11-6 in road games during the 2016-17 season.

3. NCCU will play nine games in November, the most since the 2012-13 season where the Eagles played eight.

4. NCCU's non-conference schedule puts the Eagles on the road nine times out of 14 games.

5. NCCU went 9-5 in non-conference play last year.



SCOUTING THE REDHAWKS

Southeast Missouri State returns stateside after playing two games to finish the Cancun Challenge, going 1-3 in the event. The Redhawks are currently led by Denzel Mahoney who is averaging 18.8 points and 5.2 rebounds per game. Mahoney contributed a team-high 27 points with six rebounds in the last game against Montana State, where SEMO was defeated 82-88.

SERIES: NCCU leads, 1-0.



FULL PLATE

NCCU will play three-games in five days during this Thanksgiving trip, with all three being played in separate states. Since the 2013-14 season, the Eagles are 4-7 in games played during the week of Thanksgiving.

Late Struggles Cost Rams in 84-81 Loss to Elizabeth City State at Thanksgiving Classic

Colon, Crandell lead effort for WSSU in tough loss

RICHMOND, VA - The Winston-Salem State Rams (1-5) gave a great effort, but some second half struggles cost the team in a hard-fought 84-81 loss to the Elizabeth City State Vikings (3-1) on the opening day of the 2017 Thanksgiving Classic hosted by Virginia Union University, Saturday afternoon. After taking a 50-37 lead into the locker room at halftime, the Rams were held to just 31 second half points to take the loss.

As a team, the Rams had a solid overall effort, but faded in critical moments late to take the loss. The Rams took the loss in spite of shooting a hot 53.3% (24-45) from the floor in the game while holding the Vikings to shooting just 45.8% (27-of-59) in the game. The Rams also benefitted from a pair of stellar performances as sophomore guard Robert Colon scored a team-high 29 points in teh game while junior forward William Crandell added 27 points and nine rebounds in the loss. Junior forward Jamel McAllister added 12 points in the game as well.

Things looked good early as the Rams controlled nearly the entire first half of play. The team opened the game with an impressive start, taking a 15-7 lead after a pair of Colon free throws 14:15 left in the half. The Rams would allow the Vikings to briefly take the lead, 31-25 with 7:29 left in the half. But the Rams answered with a late surge to take control of the game. The Rams mounted a 17-3 run to go ahead, 42-33 with just over two minutes left in the half before a three-pointer from freshman guard Derick Brewer. Jr. left the Rams with a 50-37 halftime lead.

The second half saw a much different effort from the two teams. Through the early second half, Elizabeth City State chipped into the WSSU lead to leave the Rams leading by just four points, 64-60, after a McAllister free throw with 9:05 left to play. The Rams fell into their first deficit of the half after a pair of ECSU free throws with just under seven minutes to play. Trailing, 65-64, Colon answered with a lay-up to keep the Rams on top, but the team could not quite maintain their effort for the remainder of the game. A Brewer, Jr. three-pointer with eight seconds left to play was the only other WSSU field goal in the final six minutes of the game as the Rams took the 84-81 loss.


With the loss, the Rams fall to 1-5 overall this season. The team wil not have long to wait for their next action as the team will take on the host Virginia Union Panthers, tomorrow in a 4:00 p.m. game at Barco-Stevens Arena on the campus of Virginia Union University. For more information on Rams men's basketball, log on to www.WSSURams.com.
Fayetteville State Drops 73-55 Non-Conference Game to Chowan

Fayetteville, NC – In the final game of the Fayetteville State Women's Basketball Thanksgiving Classic, the Broncos dropped a 73-55 non-conference matchup against Chowan University.

FSU (3-3 overall) was led by Jamesha Mosley (Oak Grove, KY) and Shantel Bennett (Sanford, NC) who finished with 11 points each.

Chowan's (6-1 overall) Dhyamond Crenshaw led the game with 18 points while teammates Danielle Weldon scored 15 and Chantel Roberts 13.

The Hawks went on a 12-0 run to take a 16-6 early lead and 34-25 halftime advantage.

Fayetteville State made 15-of-19 free throws (78.9%) but shot 28.8% (19-of-66) from the floor. Chowan was 28-of-62 in field goals (45.2%) and made 70% of their shots from the charity stripe (14-of-20).


Fayetteville State will play host to Morris College on Thursday, November 30th at 5:30 pm.