NCCU POSTS ELEVEN TOP-THREE FINISHES AT CNU INDOOR TRACK & FIELD HOLIDAY OPEN Kyle Serba Photo NCCU
Nana Atakora-Bediako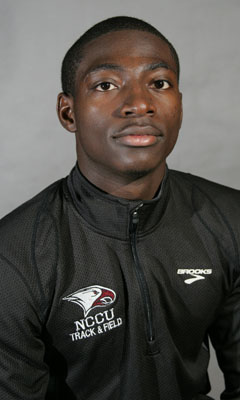 NCCU's Atakora-Bediako Wins Men's Triple Jump with Leap of More Than 48-Feet

NEWPORT NEWS, Va. – North Carolina Central University junior Nana Atakora-Bediako won the men's triple jump at the Christopher Newport University Holiday Open to lead 11 top-three performances by NCCU during the indoor track & field season-opening meet on Sunday (Dec. 4).

"It's our opener, so our expectations were sporadic," said NCCU track & field head coach Michael Lawson. "What I was looking for was strong effort. I think our performances were about where we expected them to be based on our preseason training."

In NCCU's lone individual event victory, Atakora-Bediako's winning triple jump leap was 14.84 meters (48 feet, 8.25 inches).

"With Nana coming back into his third year, he is seasoned, physically stronger and has a good work ethic," Lawson said. "He is one of the hardest workers on the team and he has been consistently hitting the board (on his jumps)."

Another NCCU event victory was celebrated by the foursome of Amber Brooks, Ikea Long, Taisha Parkins and Dreanna Wallace, who won the women's distance medley with a time of 12:56.44.

In another women's relay race, Ciara Houston, Ashley McCoy, Sararesa Hudson and La'Creesha Gore delivered NCCU a come-from-behind second-place effort in the 4x400-meter relay. A strong anchor leg run by Gore provided the Lady Eagles with a time of 3:57.76.

The Lady Eagles also enjoyed four individual second-place performances. McCoy placed second in the 60m dash (7.46), Gore finished second in the 200m dash (25.48), Parkins was runner-up in the 800m run (2:23.19), and Anthonia Ballard finished just two one-hundredths of a second behind the winner of the 60m hurdles with a second-place time of 8.70.

"Anthonia's performance was solid," said Lawson. "She posted a pretty good time for starters, and she has been very technically strong."

Besides Atakora-Bediako's victory in the triple jump, the NCCU men had some other medal-worthy performances in the field. Willie Calvin leaped 2.13m (6-11.75) in the high jump to place second, while Nealie Whitt placed third in the shot put with a toss of 15.12 m (49-7.25).

On the track, the NCCU foursome of Greg Roper, Phillip Barren, Snonsio Boye-Weah, and Brandon Addison ran to a second-place finish in the men's 4x400m relay with a time of 3:21.52, while Barren also placed third in the 60m dash with a time of 6.92.

"Phillip will be a solid athlete for us," Lawson said. "His performance this weekend was superb. He was really fluent in his technique."

For complete results, visit www.NCCUEaglePride.com.

The NCCU men's and women's indoor track & field teams will return to action on Jan. 13-14 at the Virginia Tech Invitational in Blacksburg, Va.