Black College Sports Online. Com
News Releases
North Carolina A&T State University

BRAZILE TO BE KEYNOTE SPEAKER FOR A&T COMMENCEMENT
Mug: Donna Brazile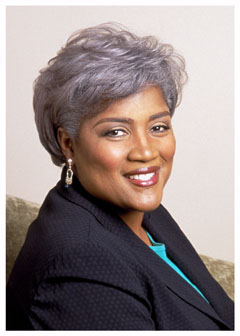 GREENSBORO, N.C. - Donna Brazile, a renowned political commentator and vice chair of Voter Registration and Participation for the Democratic National Committee, will serve as the keynote speaker for North Carolina A&T State University's 2011 Fall Commencement. The ceremony will be held Saturday, Dec. 10, at the Greensboro Coliseum. Lineup begins at 8 a.m. with the processional following at 8:30 a.m. More than 850 students will receive degrees at this year's commencement.
A veteran Democratic political strategist, Brazile is also an adjunct professor, author, syndicated columnist and television political commentator and a former chair of the DNC's Voting Rights Institute.
Aside from working for the full recovery of her beloved New Orleans, Brazile's passion is encouraging young people to vote, to work within the system to strengthen it, and to run for public office.
A New Orleans native, she began her political career at the age of nine when she worked to elect a city council candidate who had promised to build a playground in her neighborhood; the candidate won, the swing sets were installed, and a lifelong passion for political progress was ignited. Four decades and innumerable state and local campaigns later, Brazile has worked on every presidential campaign from 1976 through 2000, when she served as campaign manager for former Vice President Al Gore, becoming the first African-American woman to manage a presidential campaign.
Author of the best-selling memoir Cooking with Grease: Stirring the Pots in American Politics, Brazile is an adjunct professor at Georgetown University, a syndicated newspaper columnist for United Media, a columnist for Ms. Magazine and O Magazine, and an on-air contributor to CNN, NPR, and ABC, where she regularly appears on This Week.
In August 2009, O, The Oprah Magazine chose Brazile as one of its 20 "remarkable visionaries" for the magazine's first-ever O Power List. In addition, she was named among the 100 Most Powerful Women by Washingtonian magazine, Top 50 Women in America by Essence magazine, and received the Congressional Black Caucus Foundation's highest
award for political achievement. A former member of the board of directors of the Louisiana Recovery Authority, responsible for leading the state's rebuilding process in the aftermath of two catastrophic hurricanes. Brazile is the proud recipient of honorary doctorate degrees from Louisiana State University and Xavier University of Louisiana, the only historically Black, Catholic institution of higher education in the United States. She is founder and managing director of Brazile & Associates LLC, a general consulting, grassroots advocacy, and
training firm based in Washington, D.C.
A&T NAMES MURPHY DIRECTOR OF SUMMER SESSIONS AND CERTIFICATE PROGRAMS

GREENSBORO, N.C. - Dr. Dawn Forbes Murphy has been named the director of Summer Sessions and Certificate Programs for the Office of University Outreach, Professional Development and Distance Education at North Carolina A&T State University. Murphy has more than 11 years experience delivering quality student support services. She specializes in grant writing, Southern Association of Colleges and Schools (SACS) compliance monitoring and review, working with faculty and staff across disciplines in collaborative efforts to improve student retention, academic advising and training, policy development, and implementing innovative retention strategies to foster student success. She was the program manager for the North Carolina Louis Stokes Alliance for Minority Participation (NC-LSAMP). She was also the director of Student Services for the School of Nursing. They were both positions at N.C. A&T. Murphy holds a bachelor's degree in professional English, a master's degree in counseling and a doctorate degree in educational leadership.
THOMPSON RECEIVES AWARD



GREENSBORO, N.C. - Dr. Cynthia Carlton Thompson, a professor in the Department of Graphic Communication Systems and Technological Studies at North Carolina A&T State University, was recently honored for Exemplary and Outstanding Services by the Association of Technology, Management and Applied Engineering (ATMAE). She received a plaque. The ATMAE was formerly known as the National Association of Industrial Technology (NAIT). ATMAE sets standards for academic program accreditation, personal certification, and professional development for educators and industry professionals involved in integrating technology, leadership and design. Its primary mission is faculty, students, and industry professionals dedicated to solving complex technological problems and developing the competitive technologist and applied engineering workforce.
A&T PROFESSOR TO SERVE AS PRESIDENT OF
CONSTRUCTION MANAGEMENT DIVISION FOR ATMAE
GREENSBORO, N.C. - Dr. Lewis Waller, an assistant professor in the Department of Construction Management and Occupational Safety and Health at North Carolina A&T State University, was appointed to a two-year term as the president of the Construction Management Division for the Association of Technology, Management, and Applied Engineering.

News Releases
North Carolina A&T State University