Football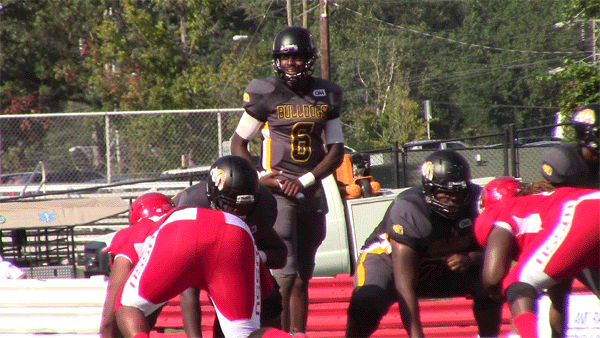 Bowie State Topples #19 Winston-Salem State 31-13 in Non-Conference Clash
Gregg Goins
WINSTON-SALEM, N.C. – Senior Robert Chesson scored two rushing touchdowns and junior Amir Hall rushed for one touchdown as Bowie State University (2-0) defeated #19 Winston-Salem State University (1-1) 31-13 on Saturday afternoon at Bowman Gray Stadium.
Chesson ended the contest as the games' leading ground gainer with 95 yards on 19 carries. Hall completed 11-of-14 passes for 94 yards while junior Lansana Sesay (Bowie, Md.) had a team-high four receptions for 46 yards and senior Kerrick Pollock (Miami, Fla.) caught two passes for 35 yards.
Tops on defense for Bowie State were sophomores William Flowers, III (Baltimore, Md.) and Tommar Phillips (Lanham, Md.) along with senior Johnny Littlejohn (Silver Spring, Md.) with five tackles each.
Rod Tinsley led the Winston-Salem State offense with 100 passing yards, completing 16-of-29 (one intercepton). Tinley also led the Rams with 65 rushing yards on eight carries. The Rams were led on defense by Jarell Bright with a game-high 14 tackles.
"Our guys played with a lot of energy throughout the game and that's what it's going to take to win ball games in this conference", said Bowie State head coach Damon Wilson.
Bowie State drew first blood at the 1:15 mark of the first quarter, when Chesson rushed for a two-yard score. Sophomore Gene Carson (Accokeek, Md.) added the extra point for 7-0 advantage.

Carson booted a 36-yard field goal with 3:01 left in the second quarter to give visiting Bowie State a 10-0 lead.

Chesson scored his second touchdown of the afternoon, this time from 19 yards out at the 11:49 mark of the third quarter to take a 17-0 advantage. Hall punched it in from three yards out with 4:33 left in the third to push the Bowie State lead to 24-0

Tinsley to Walton for a 5-yard score with six seconds left in the third quarter.
Bowie State junior Taylor Johnson (Washington, D.C.) scooped up a Winston-Salem State fumbled and rumbled 85 yards in the other direction, extending the Bulldogs lead to 31-7 with 6:48 remaining in the game.
Winston-Salem State's Kerrion Moore scampered around the left side to score from five yards with 5:54 left on the Bowman Gray Stadium scoreboard, but the Rams trailed 31-13.
The Bulldogs early travels continue next Saturday (Sept. 16) as Bowie State takes on the Falcons of Saint Augustine's University. Kickoff is slated for 1 p.m. at SAU's George Williams Complex.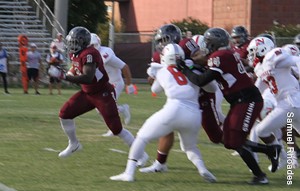 VUU Stuns Newberry 31-23
Virginia Union University's
Tabyus Taylor
rushed for 109 yards, including a 93-yard touchdown run, as VUU stunned Newberry College 31-13 in the Panthers' home opener on Saturday, September 9, in Hovey Field in Richmond, Va.
Taylor's scoring run came with 8:14 left in the first quarter, and put the Panthers ahead 7-0. It marked the longest run from scrimmage in 24 years. It was the first time a VUU player had a 90+ run from scrimmage since Bobby Phillips ran for 96 yards on a single carry vs. Howard University on September 4, 1993.
Taylor would score another touchdown later in the first quarter, taking the ball in from nine yards out to make the score 14-7 in favor of VUU.
Although the score was close throughout much of the game, the Panthers put the contest away when quarterback
Darius Taylor
hit
Gustavious Dames
for a 69-yard scoring strike with 4:35 left in the fourth quarter.
Darius Taylor
completed 10 of 25 passes for 176 yards and a touchdown. VUU's
Rodney McKay
rushed for 90 yards on 11 carries.
VUU also got a two-yard touchdown run from
Arron Baker
in the third quarter while teammate
Jefferson Souza
hit a field goal from 36 yards out.
The win was the first-ever for the Panthers over a Newberry team, who had taken the two previous meetings with VUU. It also marked the first time a Virginia Union football team beat a team from the South Atlantic Conference since VUU defeated Lenoir-Rhyne College 28-13 on August 30, 2007.
The win evened VUU's record to 1-1 on the season while Newberry drops to 0-2.
The Panthers will now meet Winston-Salem State University in the Willard Bailey Football Classic at 6:00 p.m. on Saturday, September 16.
Lebanon, Ill.-
Kentucky State University dropped its second game of the season with a 50-0 loss to McKendree University at Lemon Field on Saturday afternoon.
The Thorobreds (0-2) for the second week in a row, repeated a slow start out of the gate and found themselves in an early hole. The Bearcats (1-1) shrugged off a 42-2 loss to Angelo State from a week ago, capitalizing on mistakes and making the most out of great field position.
MKU scored early and often accounted for 37 unanswered points in the first half. Of the scores, only two came from the Bearcats offense, as the defense recorded a touchdown and a safety, while the special teams returned a kickoff and a punt for scores.
Sophomore linebacker
Phillip Francis
worked to disrupt the Bearcats offense as he made his way into the backfield for four tackles for a loss in the first half. Junior linebacker
Andre Miles
collected his first fumble recovery of the season in the second quarter after junior defensive back
Matthew Bizimana
stripped the ball loose for the Thorobreds.
MKU began the third quarter much like it ended the second, with a 12 play, 84-yard drive to go on top 43-0. The Bearcats added another rushing touchdown in the fourth to get to the half century mark.
Sophomore wide receiver
Jonathan Powell
led the Thorobeds in receiving yards for the first time in his career with 54 yards on five catches.
Sophomore safety
Hakeem Adebimpe
finished the day with a game-high 10 tackles. Bizimana and Miles each notched seven take downs, while Francis collected six, including five for a loss.
KSU will return home next week to host Kentucky Wesleyan College. Kickoff is set for 1:30 pm ET and all current military personnel, firefighters, police men, and paramedics will be granted free admission to the game with proof of identification
Final Football Stats: Wingate 31 - Fayetteville St. 21
September 9, 2017
De La Rosa nabs a Pick-6 as Fayetteville State falls to Wingate 31-21
Fayetteville, NC – Freshman defensive back Elvin De La Rosa (Winston-Salem, NC) did exactly what his coaches preached and grabbed his first collegiate pick-six in Fayetteville State's 21-31 loss to Wingate University, during the Broncos home-opener. The defensive score gave the Broncos a 14-0 lead after the first two drives of the game.
Fayetteville State (1-1 overall) marched 65 yards into the end zone on the game's opening drive with a one yard quarterback keeper from Kane Banner (Lumberton, NC). On Wingate's pursuing drive, facing a third-and-ten situation, James Whitaker threw to the flats and into the waiting hands De La Rosa.
"I was just reading three steps just like my coaches taught me to do," said De La Rosa. "I trust in my coach and I did it."
Wingate (2-0 overall) responded with 17 unanswered points for a three-point halftime lead (17-14). The Bulldogs added to its lead in the third quarter for a 24-14 advantage with 5:59 remaining.
Quarterback Devin Knudsen (Fresno, CA) steered the Broncos back to within three (24-21) in the fourth quarter with a 20-yard heave to Jonathan Transou (Winston-Salem, NC). The scoring drive at the 11:05 mark ended a 50-play series that took all of seven plays to move the chains.
"We got some good inside zone run plays be Stevie [Green] and the other guys," said Knudsen. "We were able to hit a little screen to Tristan Walker which setup [the scoring] play.
The Wingate Bulldogs would manage seven more points with 6:58 left in the game for the 31-21 victory.
"I am really proud of how the guys fought today," said Head Coach Richard Hayes. "They played a little bit over their heads, early, and then they settled down and got into the flow of the game. Wingate is a very good football team. I told my guys all week that this is going to be one of the toughest teams that they will face this year. We have to learn to play four full quarters."
Knudsen finished with 74 passing yards from 7-of-13 attempts and one INT. The Broncos finished with 117 passing yards. Banner threw for 43 yards (4-14-1) and rushed for 18.
Fayetteville State will travel to Rocky Mount, NC next weekend for a non-conference matchup against Elizabeth City State (1-1 overall) in the 20th Down East Viking Football Classic. The Vikings recently suffered a 66-14 loss to UNC Pembroke.
NCCU Football Blanks Shaw 41-0 in Home-Opener
DURHAM, N.C. – North Carolina Central University amassed 393 yards of total offense and kept Shaw University off the scoreboard in a 41-0 win in the Eagles' home-opener at O'Kelly-Riddick Stadium on Saturday.
A near capacity crowd of 9,141 fans watched a pair of NCCU freshmen account for four of the team's five touchdowns. Redshirt freshman running back Isaiah Totten rushed for a game-high 66 yards with two 25-yard trips to the end zone. True freshman quarterback Chauncey Caldwell ran for 63 yards with a 13-yard score and completed a 14-yard touchdown pass to senior receiver David Miller. Caldwell completed all five of his passes for 47 yards.
The Eagles' other touchdown was contributed by junior running back Dorrel McClain on a 1-yard scamper, which was set up by a 27-yard catch by sophomore receiver Xavier McKoy.
Junior placekicker Aedan Johnson made field goals of 25 and 37 yards, while converting all five extra-point kicks to post 11 points for NCCU (1-1).
Leading the charge in NCCU's shutout performance was senior defensive end Antonio Brown with six tackles, including 3.5 hits for a loss and two sacks, along with a fumble recovery. Ruben Saunders and Davanta Reynolds topped the Eagles with seven takedowns apiece, while Reynolds added an interception.
Shaw (0-2) managed 156 yards of total offense, with 102 passing yards and 54 rushing yards. The closest the Bears got to the end zone was the NCCU 42-yard line.
NCCU has a bye week before returning home for a Thursday night ESPNU televised contest on Sept. 21 versus MEAC foe South Carolina State University. Kickoff is slated for 7:30 p.m. inside O'Kelly-Riddick Stadium. For ticket information, visit NCCUEaglePride.com.
Soccer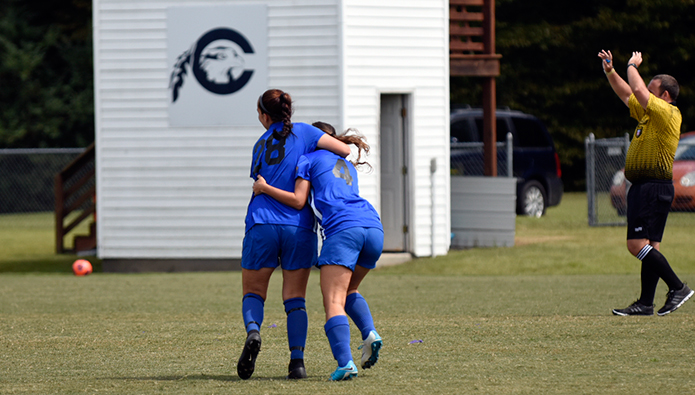 CU Women's Soccer Remains Unbeaten, Cage Lions 8-0
MURFREESBORO, N.C. – The Chowan Women's Soccer team remains unbeaten as the Hawks cage the Lions of Lincoln (Pa.) 8-0 on Sunday afternoon.
THE BASICS
FINAL | Chowan 8, Lincoln (Pa.) 0
RECORDS | Chowan 2-0-1, Lincoln 2-3-0
LOCATION | Murfreesboro, N.C. (Hawks Soccer Field)
INSIDE THE BOXSCORE
The Hawks defense has been stellar all season as Chowan has not allowed a goal to open the season. Chowan has not allowed a goal since Oct. 22 during their contest with Limestone last season. Olivia Borer and the Hawks have registered 402:44 of action without allowing a goal. That mark is a program record.
Six different players scored for the Hawks with five of those being freshman.
Carolina Lucci and Hope Kohl netted two goals each in the onslaught. Stephanie Quintanilla, Monae Moore, Marissa Speary, and Sierra Gonzalez also found the back of the net.
Mackenzie Imamura, Abaigeal Peck, and Sabrina Henderson tallied an assist in the contest.
HOW IT HAPPENED
1st Half
Chowan went on the attack as soon as the opening whistle was blown. Mackenzie Imamura sent a through ball down the middle of the pitch finding Carolina Lucci at the top of the box, who finished the strike far post just 2:11 into the match.
Less than 90 seconds later, Stephanie Quintanilla found herself in open space on the right wing and ripped a shot far post to give the Hawks a 2-0 lead just 3:38 into the contest.
The Hawks attack slowed through the middle of the half as chances were not completed. Susan Balladares would hit the post and bounced to Sabrina Henderson's foot sailing it just wide right.
Fatigue settled in for the Lions as the Hawks scored four goals in the final six minutes of the half. Abaigeal Pecksent a through ball from midfield finding Hope Kohl on a run for the 3-0 advantage.
Carolina Lucci netted her fourth goal of the season in the 41' sliding a shot from the right end line past the keeper.
Just two minutes into her action, Monae Moore found the back of the net for her first career goal. Sabrina Henderson dribbled the attack down the right wing and slid the pass back across the box finding Moore for the goal.
With just over a minute left in the half, Marissa Speary beat a defender on the left wing finding the far post to give the Hawks a 6-0 lead heading into the half.
2nd Half
Chowan continued with fresh legs off the bench to continue to gain experience for the young team. In the 63' Hope Kohl searched for her second goal of the contest as the initial shot was saved but was not corralled as Kohl would tap in for the goal.
The Hawks maintained possession for most of the half as Lincoln registered all three shots in the second half. Chowan tacked on the final goal of the match in the 90' as a corner kick was cleared out by the Lions' defense but found the foot of Sierra Gonzalez at the top of the box. Gonzalez would finish the strike far post for the score.
UP NEXT
Chowan will continue their non-conference schedule as the Hawks host Washington Adventist on Wednesday, September 13. Kick-off is at 4pm.
Track
Bowie State Women and Men's Cross Country Open Season at Navy
ANNAPOLIS, Md. – Freshman Cionne Gourrier (Las Vegas, Nev.) paced the Bulldog women and junior Robert Thomas (Kingston, Jamaica) led the men's cross country team in Bowie State's opening event of the season at the United State Naval Academy on Saturday morning.
Gourrier finished the 6k race in a time of 29:11.57 while Thomas recorded a time of 20:36.89 in the men's 8k run
Sophomore Zuwena Johnson (Upper Marlboro, Md.) was the second women's Bulldogs runner to cross the finish line, coming in with a time of 29:52.65. Freshmen Abigail Hunt (Pasadena, Md.) and Telicia Farmer (Lanham, Md.) recorded times of 31:37.76 and 33:24.49 respectively while Kaylia Brown rounded out Bowie State's five women participants, clocking in at 35.46.69.
Navy claimed first place with a score of 29 points followed by Maryland (47) in second, American (56) was third overall and Towson (108) and UMBC (138) rounded out the top five. St. Mary's (Md.) finished 6th in the women's division with 199 points followed by McDaniel in 7th (210) and Bowie State rounded out the field in 8th place (242 points).
The Bowie State men did not factor in team scoring. Sophomore Kevin Glasper (Laurel, Md.) ran the course in times of 21:10.23 followed by freshmen Markese Miller (21:49.90), Juantre Rush (23:09.28) and Ikpefua Olumese (24:35.27).
The Bulldogs return to competition on Saturday, September 23rd, making a trip to Princess Anne, Md. To participate in the Cappy Anderson Invitational hosted by the University of Maryland Eastern Shore. The women will get underway at 10:30 a.m. and the men will hit the course at 11:15 a.m.
Maryland Eastern Shore
Department of Intercollegiate Athletics
FOR IMMEDIATE RELEASE
CONTACT: MATT MCCANN
410-621-2352
September 9, 2017
Cross Country experiences déjà vu at DSU
Men win for second straight week; Women earn runner up spot



SMYRNA, Delaware — The Shore's cross country team repeated their team finishes from the season opener during Saturday's running of the Delaware State Hornets Invitational.

The men's squad took the win over five foes with a total of 31 points and the women claimed second with 62 points.
Senior Donovan Mundy (Jacksonville, Florida) led the men with a second place finish individually, running a time of 16:24.7 on the 5k course. Sophomore John Akakeya (Staten Island, New York)—last week's winner—continued his strong start with a fourth place time of 16:37.1, and senior Oussama Chouati (Manresa, Spain) rounded out the top five with a 16:43.9 time.
Sophomore Hector Cime (Parksley, Virginia) and senior Stanley Meli (Eldoret, Kenya) factored into the Hawks' scoring as well, finishing in 7th and 13th, respectively.
On the women's side, it was sophomore Sharon Jerop (Eldoret, Kenya) who once again paved the way, finishing with a time of 20:14.5 to come in second place. Fellow sophomore Neus Quinonero (Valencia, Spain) ran the course in 20:54.3, finishing in fourth.
Senior Dypna Umunakwe (Bronx, New York) finished in 17th, freshman Jessica Roney (Windsor Mill, Maryland) came in 18th and sophomore Amirah Jones (Suffolk, Virginia) came in 21st to complete the women's scores.
Maryland Eastern Shore returns to Smyrna for the DSU Farm Run on Friday, September 15th.

For complete recaps, results and news of Hawk athletics, please visit [http://www.easternshorehawks.com<http://www.easternshorehawks.com/]www.easternshorehawks.com<http://www.easternshorehawks.com/>
Volleyball
Maryland Eastern Shore
Department of Intercollegiate Athletics
FOR IMMEDIATE RELEASE
CONTACT: MATT MCCANN
410-621-2352
September 9, 2017
The Shore sweeps William & Mary for sixth straight win
Hawks convert nearly one-third of their attacks to win in three



WINSTON-SALEM, North Carolina — Maryland Eastern Shore volleyball continued their winning streak that dates back to September 1st with a 3-0 sweep (25-18, 25-21, 25-16) of the William & Mary Tribe Saturday at the Demon Deacon Invitational in North Carolina.

The victory is the sixth straight for the Hawks, who improve to 7-2 on the season.
The Shore hit .322 as a team—compared to .190 for the Tribe—and they outpaced William & Mary in assists 43 to 36, digs 56 to 52, blocks seven to four, and aces five to zero. Their .322 hitting percentage is the second best in a match so far this season.
Sophomore Ivana Blazevic (Zagreb, Croatia) nearly averaged 13 assists per set with a total of 38 for the match. Other stat leaders for the Hawks include 14 kills from sophomore Iva Vujosevic (Bar, Montenegro), five block participations—including two solos—from graduate student Mere Serea (Suva, Fiji), 17 digs from junior Maja Jankovic (Ruma, Serbia) and a pair of aces from senior Alana Polk (Houston, Texas).
On the attack, Blazevic, Serea and freshman Sola Okesanjo (Chicago, Illinois) earned hitting percentages greater than .400.
Aside from a few temporary moments, Maryland Eastern Shore held the advantage for the entire match. The Hawks took the lead for good with their 12th point in the first set, the 16th point of the second set and after just the fourth point of the third and final set, using a 5-0 run to seal the victory.
The win is the Hawks' first ever against William & Mary in volleyball.
With a win over host Wake Forest tonight The Shore will be crowned champions for a second consecutive weekend.

That match will begin at 7:30 p.m. this evening.



For complete recaps, results and news of Hawk athletics, please visit [http://www.easternshorehawks.com<http://www.easternshorehawks.com/]www.easternshorehawks.com<http://www.easternshorehawks.com/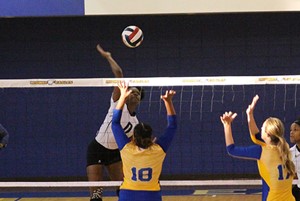 Volleyball Sweeps by on Day 2 of KWC Tournament
Owensboro, Ky.-
Kentucky State University volleyball finished off its stay in the Kentucky Wesleyan College Tournament by sweeping through the competition on day two, to finish with an overall tournament record of 3-1.
The Thorobrettes (4-1) went five sets in each of their matches winning the first at 3-2 over Brescia University (6-5) before dropping the second match 3-2 to Oakland City University (4-6).
KSU will head back to the Capitol City for its first home match of the year on Thursday. The Thorobrettes will face off with Georgetown College at 6 pm ET, and the game has been declared a "Black Out." Fans are encouraged to support by wearing their favorite black KSU shirt.
KSU 3 BU 2
The first set didn't go as planned as the Bearcats came away with the win at 25-14, but the Thorbettes proved to have short memories in the second set.
Following a back and forth contest and the score tied at 19, BU took the advantage going up 24-22. Head coach
Katrina English
called a timeout, settling her squad for a quick rally, taking a 25-24 lead and forcing extra play. Junior middle blocker Landry Greathouse broke the 25-25 tie with a kill, and the Bearcats tried to answer back but fell victim to an attacking error, giving KSU the 27-25 win, tying the match at 1-1.
KSU traded wins with BU in the third and fourth sets to force a fifth and final set. After matching each other point-for-point, Greathouse stepped up again to break a 13-13 tie with a kill and later followed with the match point on a kill from an assist by freshman middle blocker
Jalynn Roberts
at 16-14.
Freshman right side hitter
Robin Poole
led the team in kills with 13 and digs at 17 for her first career double-double. Greathouse collected 12 kills, along with four blocks.
Sophomore setter
Hannah Smyers
continued to be the trend setter in assists with a team-high 28.
KSU 3 OCU 2
Almost identical to the first match of the day for the Thorobrettes, match number two was a slow start, dropping the first frame in their most lopsided loss of the season at 25-9.
Once again though, no lay over in the second set as KSU took a 14-13 lead midway through and never looked back for an 11-6 run to tie the match at 1-1.
Trading wins in the third and fourth sets forced the Thorobrettes to its second, fifth set of the day. KSU jumped out to a commanding 11-5 advantage, OCU rallied for a 9-0 run, jumping to a 14-12 lead and serving for match point. KSU took advantage of back-to-back errors by the Mighty Oaks as Smyers assisted on back-to-back-to-back kills by Greathouse, freshman outside hitter
Makayla Martin
, and on match point by Greathouse again to come out on top with the win at 16-14.
Poole picked up 12 kills and 10 digs for her second double-double on the day. Martin collected 11 kills and 10 digs for her first-career double-double.
Smyers out did herself once again for a career-high 35 assists and seven kills.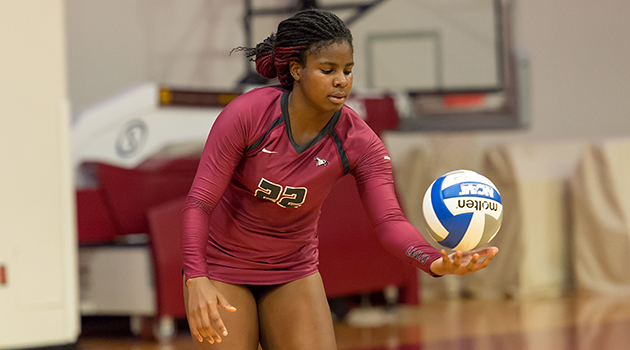 Buccaneers Battle past NCCU in Four Sets
NOTES: Box score unavailable at this time. NCCU freshman Da'Nesha Miller, who had a double-double against Charleston, pictured during Saturday's first match against Elon (by Kevin Dorsey)
ELON, N.C. – Freshman Da'Nesha Miller netted a double-double to pace the North Carolina Central University volleyball team in a 3-1 loss to Charleston Southern University in its final match of the 2017 Elon University Phoenix Classic Friday afternoon.
The 28-26, 25-14, 23-25, 25-12 conquest was the second win of the day for the Buccaneers. CSU improved to 3-8 overall and NCCU returns home at 0-9.
NCCU HIGHLIGHTS & STATS:
Miller's second double-double of her rookie season included team-best marks of 11 kills and 16 digs.
Freshman Christine Alcox completed a 21-kill day with nine spikes in NCCU's nightcap. She was one dig shy of a double-double with nine.
Junior Whitney White added six kills and six blocks while both fellow junior classmates Erika Ianovale and Jazmine Daye chipped in five kills. Senior setter Paige Phillips totaled 31 assists and junior libero Bree Simmons lifted up 14 digs.
CHARLESTON SOUTHERN HIGHLIGHTS & STATS:
A trio of Bucs reached the 10-plus kill plateau. Junior Addison Kaderli led the group with 16 kills. Sophomore Brooke Monssen supplied 13 kills and junior Hannah Western logged 10 kills. Western also had 13 digs for a double-double.
Sophomore setter Rachel Smith had a big contest with 51 assists and 10 digs. Junior Madison Martin contributed a match-high 21 digs.
SET-BY-SET:
1ST: The opener was a seesaw affair. White, who had four kills and three blocks in the frame, gave NCCU a chance to serve for set point at 24-23 with a spike. However, CSU won four of the next five points to win the extended 28-26 period. Kaderli finished off the Bucs triumph with the go-ahead and set-clinching kills.
2ND: Charleston Southern controlled the second set by hitting .444. The Bucs lead grew to double digits as soon as 16-6 before winning by 11.
3RD: The Buccaneers were closing in on the sweep with a 16-13 lead before a 12-7 rally by NCCU extended the match. CSU continued to lead 23-21 before the Lady Eagles scored the final four points that was started by an Alcox kill.
4TH: A 7-0 run gave Charleston Southern a seven-point lead of 13-7 at the midway point and the Bucs cruised to the finish line from there, including three of their final four points on aces by Kirk.
UP NEXT:
NCCU will host Gardner-Webb University in its home opener on Tuesday at 6 p.m.
Owensboro, Ky.-Kentucky State University split a doubleheader on Friday as a part of the Kentucky Wesleyan Tournament at Jones Gym.
The Thorobrettes (2-1) propelled past Bluefield State College (0-3) 3-1 in the first match of the day and dropped the second match, 3-1 against host KWC (2-4).
KSU will put an end to its stay in Owensboro with two final matches on Saturday against Brescia University, and Oakland City University beginning at 11 am ET and ending at 3 pm ET.
KSU 3 BSC 1
KSU came out of the gate quick taking the first set 25-23. The Thorobrettes led early but let the Big Blues back into it mid way through the match, as they took the lead at 18-17. Key kills by junior middle blocker Landry Greathouse and freshman outside hitter
Robin Poole
with errors sandwiched in between by BSC led to KSU coming out on top with the set win.
The second set proved to sway in the Thorobrettes favor as they never trailed, and led by as much as 11 in the 25-19 victory. The Big Blues rallied and showed fight in the third set, brining the match to a 2-1 KSU advantage, after a 25-22 BSC set win.
The fourth set ended up being the final frame of the afternoon, as KSU matched its performance from the second set, never trailing at any point to the Big Blues for the 25-17 win.
Greathouse recorded a game-high 15 kills and a game-high three blocks. Poole followed with eight kills and seven digs. Sophomore setter
Hannah Smyers
picked up a team-high 16 assists, along with six kills, and two blocks.
KWC 3 KSU 1
Smyers recorded her first double-double of the season with a season-high 26 assists and a team-high 14 digs, as KSU dropped its first match of the season.
A common trend for the Thorobrettes over the first three matches of the season has been their ability to get off to a fast start to take an early lead. After being tied at four, KSU spun off eight straight points leaving the Panthers in the rear view for a 25-21 win, and a 1-0 match advantage.
At the half way point of the second set, KSU held steady to a 19-14 lead, but KWC rallied for a 10-0 run to tie the match a 1-1, regaining the momentum that carried over the third and fourth set for a sweep of the Thorobreds after the first frame.
Greathouse led KSU for the second straight match in kills with 10 and was matched by Poole for the team-high. Greathouse added to her early success as a stopper at the net with a season-high six blocks.
Maryland Eastern Shore
Department of Intercollegiate Athletics
FOR IMMEDIATE RELEASE
CONTACT: MATT MCCANN
410-621-2352
September 9, 2017
Hawks fall to Wake Forest; take second at Demon Deacon Invite
Vujosevic and Babic named to All-Tournament Team

WINSTON-SALEM, North Carolina — The Hawks volleyball team had their winning streak snapped at six matches with a 3-0 loss (18-25, 19-25, 20-25) to the Wake Forest Demon Deacons on Saturday. The Shore took second place at the Demon Deacon Invitational with a 2-1 weekend thanks to victories against USC Upstate and William & Mary.
Sophomore Iva Vujosevic (Bar, Montenegro) and junior Lucia Babic (Sisak, Croatia) earned All-Tournament honors for their efforts. Vujosevic tallied 40 kills, 23 digs, four aces, two blocks and an assist. Babic finished the tournament with 30 digs, 27 kills, five blocks, five aces and four assists.
In the Wake Forest match, senior Alana Polk (Houston, Texas) participated in two of the Hawks' three blocks while adding four kills and a .500 hitting percentage. Sophomore Ivana Blazevic (Zagreb, Croatia) registered 28 assists and finished with a .571 hitting percentage, going 4-for-7 in kills without an error.
The host Demon Deacons played an exceptional match to claim the tournament title, hitting .409 to the Hawks' .204 with a 41-31 edge in assists. Wake Forest gained control of the lead within the first few points of the match and never looked back, going wire-to-wire in sets two and three to sweep.
Maryland Eastern Shore concludes their ten match road swing to open the season with a 7-3 record. The Hawks return home Friday, September 15 for The Henson's Hawk Invite. First serve takes place at noon against Coppin State.

For complete recaps, results and news of Hawk athletics, please visit [http://www.easternshorehawks.com<http://www.easternshorehawks.com/]www.easternshorehawks.com<http://www.easternshorehawks.com/>
Host Elon Edges NCCU in Phoenix Classic, 3-1
NOTES: NCAA box score with play-by-play attached. NCCU freshman Christine Alcox, who tallied a season-high 12 kills, taking a swing against Elon Saturday (by Kevin Dorsey)
ELON, N.C. – Freshmen Christine Alcox and McKayla Young supplied season-high kill totals for the visiting North Carolina Central University volleyball team in a 3-1 loss to Elon University at the Phoenix Classic Saturday afternoon.
Elon picked up its fourth straight win with the 25-14, 25-23, 20-25, 25-14 victory. The Phoenix moved to 7-3 overall. The Lady Eagles fell to 0-8.
NCCU HIGHLIGHTS & STATS:
Alcox ripped 12 kills, the most by any NCCU player this season. Junior Whitney White also reached double-digit kills with 10. Young added season-best totals of six kills and five blocks.
Freshman Da'Nesha Miller and senior Paige Phillips both flirted with double-doubles. Miller notched nine kills and 10 digs while Phillips supplied a season-high 40 assists and nine digs.
Junior libero Bree Simmons anchored NCCU's defense with 16 digs.
ELON HIGHLIGHTS & STATS:
A couple of impressive double-doubles by senior Sydney Busa and junior Kam Terry paced the Phoenix to the victory. Busa, who netted her 1,000th kill during the match, finished with 21 kills and 16 digs. Terry followed closely behind with 20 kills and 14 digs.
Freshman setter Kodi Garcia set up Elon's attack that hit .252 with 46 assists. Junior Kierra Shipman had both of NCCU's aces.
SET-BY-SET:
1ST: Elon won the first three points and never trailed, doubling up NCCU 18-9 before winning by 11. Busa had a big set with seven kills, three digs, one block and one ace. Ianovale and Alcox led the Lady Eagles with three kills apiece.
2ND: A couple more kills by Alcox helped NCCU take an early 8-6 edge. Elon scored five straight points to catapult ahead at 11-8. The Phoenix remained in front, but the Lady Eagles kept things interesting late. An ace by Shipman and a block by Miller had the visitors within one at 23-22 and 24-23, respectively, before Elon escaped with the narrowest of wins on a set-finishing kill by Busa.
3RD: NCCU hit .387 in the third set with 14 kills to extend the match. The Lady Eagles used a critical 4-0 run to break a 19-19 tie and pull away for set win. The surge featured a pair of kills by Miller and an ace by Shipman. White and Shipman both tallied four kills in the game.
4TH: Despite two early ties, Elon never trailed in the final frame. The hosts constructed a 12-6 advantage before matching its first set win of 11 points.
UP NEXT:
NCCU wraps up play in the Phoenix Classic against Charleston Southern University on Saturday at 4:30 p.m.
Nuggets win GCAC opener, stretch win streak to 5
September 9, 2017
NEW ORLEANS -- Xavier University of Louisiana opened defense of its Gulf Coast Athletic Conference volleyball regular-season championship with a 25-10, 25-20, 25-11 victory against Tougaloo.
The Gold Nuggets (6-1), winner of the last six GCAC regular-season and tournament titles, won for the fifth consecutive match and the second time in three days. Freshman Kayla Black had 12 kills and led XULA in that category for the second straight match. Black served a career-best three aces.
Other statistical standouts included Hasani Salaam with 10 kills and a .529 hitting percentage, both season highs; Vivica Price-Spraggins with seven kills and a .417 hitting percentage; Tiffany Phillips with 29 assists and 17 digs; Anna Dalla Vecchia with 19 digs; and Juliana Tomasoni with six aces, a career best, and 16 digs.
Phillips, the 2016 GCAC Setter of the Year, produced her third consecutive double-double and 17th of her career. Tomasoni's aces were the most in a match by a XULA player since Ralitsa Slanchev served seven at home against Voorhees on Sept. 29, 2014.
XULA snapped the 3-match win streak of Tougaloo (4-6, 1-2). Carolyne Edwards and Megan Besecker had five kills apiece for the Lady Bulldogs, and Kayla Cole had 12 digs.
XULA outhit Tougaloo .276 to .040 and had advantages of 46-17 in kills, 12-4 in aces and 69-48 in digs.
The Gold Nuggets will play Edward Waters at 6 p.m. Monday at XULA's Convocation Center. The Lady Tigers are 3-0 in the GCAC after winning in four sets Saturday at Philander Smith.
cross country
Price earns top-10 finish at Allstate Sugar Bowl meet
September 9, 2017
METAIRIE, La. -- Xavier University of Louisiana's Taylor Price earned her second top-10 finish of the season at the Allstate Sugar Bowl Cross Country Festival Saturday.
Price, a sophomore, covered the 5,000-meter course at Lafreniere Park in 20 minutes, 32.4 seconds to place seventh out of 63 women. Price finished ahead of 27 runners from NCAA Division I schools. XULA is an NAIA member. The top-10 finish is the fourth of Price's career.
Freshman Camren Sewell was 21st out of 54 men, and he finished ahead of six DI runners. His 5K time was 18:13.5. Sewell and Price have been the first XULA finishers in all three meets this season.
Loyola, the host school, divided the team scoring into NCAA DI and non-DI. The XULA women finished second out of three teams with 39 points. Spring Hill won with 23 points. The XULA men finished third out of four schools with 77 points. City rival Loyola edged Spring Hill 30-34 for the men's title.
Other XULA finishers in the women's race were Maliya Vaughan (16th, 21:45.9), Brianna Pace (37th, 23:51.4), Hajjia Mohammed (45th, 25:38.8) and Chinyere Jones (57th, 29:36.5). The other Gold Rush finishers were Darrick Williams (33rd, 19:58.8), Ammiel Williams (42nd, 21:28.1), Ayinde Abanu (52nd, 25:16.2) and Aaron Grundy (54th, 33:30.7).

Individual champions were Mississippi Valley's Scolasticah Kemeh (18:48.7) in the women's race and Tulane's Moses Aloiloi (16:05.1) in the men's. Tulane won both DI team championships, with its women scoring 20 points and its men scoring 18.
XULA will run next Saturday at the LSU Invitational at Highland Road Park in Baton Rouge, La. The women's 5K will start at 7:30 a.m., followed by the men's 6K at 8:10.